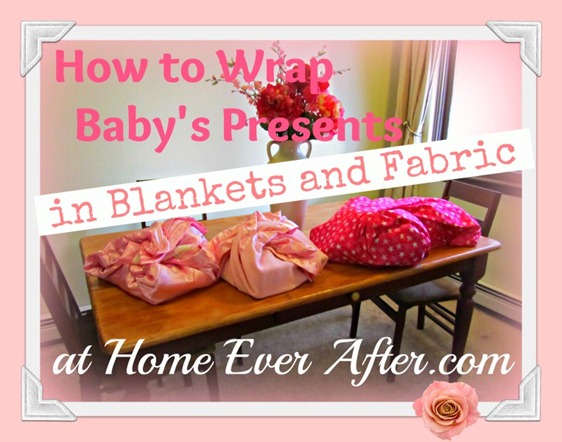 The process of wrapping presents for a baby for a birthday party or Christmas is a little inefficient.  That's why I'm passing along a tip that I use for all of my little kids (and trust me, I have plenty who can't rip wrapping paper by themselves!) for how to wrap baby's presents in blankets and fabric.
Of course, you want the gifts to look beautiful for your keepsake photos (like baby's first birthday for your scrapbook), but there are 2 problems with this:
1.  Babies can't open presents gift wrapped with wrapping paper
and
2.  If you are "helping" your baby unwrap the presents, you can't be taking pictures of her discovering these gifts for the first time.  I like to have my husband taking photos while I take video so the events are preserved forever!
My solution is really simple and completely eliminates both
the cost of buying wrapping paper, gift bags, tissue paper, and ribbon, and
the mess (and waste) of cleaning up all that ripped up wrapping material
How to Wrap Baby's Presents in Baby Blankets or Fabric
All you'll need to wrap your baby's birthday or Christmas presents is the materials you already have!  You could use:
Pretty baby blankets
Embroidered pillow cases
Leftover fabric from sewing projects
Beach towels decorated with baby's favorite cartoon character
Follow the steps in our tutorial below and soon you'll be wishing you'd done this sooner!

Next, read Save Money and Paper with Kids' Gift Tags.
How to Wrap Baby's Presents in Blankets and Fabric is linked to Delightfully Inspiring, Creative bloggers party & hop, 11th Heaven, and Made by you Mondays.