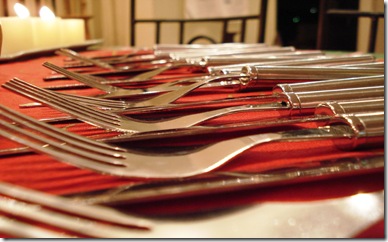 Unexpected Guests for Dinner? 
From time to time situations arise in which you have unexpected guests for a meal at the last minute.  Perhaps extra kids were invited over for dinner after school or a visiting family accompanies you home for brunch after church. 
Whatever the circumstances, it can be tricky to increase the size of a meal to serve more people without advance planning. 
Don't panic – from breakfast to dinner, it is possible to make a meal accommodate extra people on short notice.  Home Ever After will help you be the perfect host or hostess with minimal last minute stress!  Print this list out and stash it in the back of your cookbook in case of mealtime guest emergencies.
12 Ways to Stretch a Meal at the Last Minute
1.  Canned veggies.  For casseroles and soups, canned vegetables are your best friend when stretching a meal unexpectedly.  Depending on the meal you've made, pick a canned vegetable that is already an ingredient or could be a complementary ingredient.  Add 1-2 cans of extra vegetables, including the liquid (do not drain) and 1-2 cans of extra water.  Stir well, and continue cooking for added meal volume.  Frozen vegetables are not recommended since they take longer time to cook.
2.  Add rice.  If you've got about half an hour, adding rice to a meal can be a great filler.  Rice takes a little while to cook (about 20 minutes per dry cup), but will double its volume and fill up meal space.  Mix rice into a main dish or present on its own as a side dish.
3.  Mini portions for mini people.  Have extra kids shown up while you're barbecuing hamburgers?  Before grilling, split the kids' hamburger patties in half and make mini burgers that are half the size of normal.  Same goes for barbecued hotdogs.  Without time to grill more hotdogs, make hotdog-kabobs (kids LOVE them!):
Slice hotdogs into pieces approximately 1-2" long.

Use kabob skewers or even popsicle sticks to spear pieces of hot dog, using 3-4 pieces on each.

Include olives or other finger foods between hotdog pieces if desired.

Serve with ketchup and mustard for dipping.
4.  Stretch ground meat with frugal fillers.  Making anything which contains ground beef, turkey, chicken or pork?  Read how to stretch ground meat by cutting it with frugal ingredients to extend the meat portion of your meal.
5.  Set out a few extra sides of cooked vegetables.  Canned veggies can be heated quickly in the microwave.  Choose 2-3 different veggies, heat each one up in a separate microwave-safe bowl, and you've just added 2-3 new dishes to your dinner table without making a bigger main dish.
6.  Make biscuits.  Combining baking mix (Bisquick) and 20 minutes will go a long way towards plumping up a meal for extra guests.  Depending on how many extra people are coming, make 2-3 batches of biscuits all at once.  Learn how to make baking mix in case you run out.  Adding biscuits is an effective way to extend either a breakfast or dinner meal.
7.  Cut meat portions so they can be redistributed.  Instead of serving chicken breasts whole, cut each breast in quarters so the plates can be reallocated according to the new number of guests.  Similarly, other meats can be halved, quartered, or cubed.  With a topping of sauce, addition of side dishes, and attention towards the presentation, no one will ever know that the meat was divided.
8.  Create a quick pasta side dish.  Pantry Pasta is quick to prepare and can add a lot of bulk to a meal on short notice for extra guests.  Here is a quick recipe for Pantry Pasta:
Using dried pasta from your pantry (macaroni noodles, egg noodles, even spaghetti will do), boil until tender.  Dried rice will work also.

Drain water, then return to stove.

Choose a cream-based soup, such as cream of chicken or cream of mushroom, and add to the pan.

Depending on how much pasta is used, water can be added to the sauce to achieve the desired consistency.

Stir well, adding garlic, salt and pepper to taste.
9.  Scrambled eggs.  A great method for extending a breakfast meal for extra guests is to scramble eggs instead of frying or poaching.  Adding milk to the scrambled egg mixture can stretch it substantially.  When adding a lot of milk, be sure to add melted butter and salt to the mixture to prevent losing the egg flavor.  Adding a little shredded cheese or chopped vegetables to scrambled eggs will contribute flavor as well.
10.  Quick cooking oats.  No matter what is being served for breakfast, any meal can be quickly stretched to accomodate extra guests by offering oatmeal as a side dish or main dish.  Quick cooking oats can be prepared in one minute, and are delicious and healthy as well!
11.  Slice French toast into French toast sticks.  Make the most of limited bread or eggs by simply slicing French toast pieces into thin strips, or dippers.  French toast dippers can be served with flair, including a little bowl of maple syrup or fruit sauce, while using sides such as scrambled eggs or bacon to make up the bulk of the plate.
12.  Add chips.  Chips are a miracle in a pinch because they go a long way toward filling up a lunch or dinner plate.  For soup or sandwich lunches, add a side of potato chips.  With Mexican meals, tortilla chips can be added as a side or for dipping.  Mexican casseroles or soups can even have tortilla chips broken into pieces and mixed into the meal.
When stretching meals for unexpected guests, keep in mind the above ideas and customize ingredients to your own situation.  Use what you have on hand in your pantry to make adjustments that will work for the dishes you need to stretch.  Let your creativity work for you as you adjust meals to feed more people, remembering the old saying, "The more, the merrier!"
Originally published September 29, 2008.  Photo courtesy of stock.xchng.