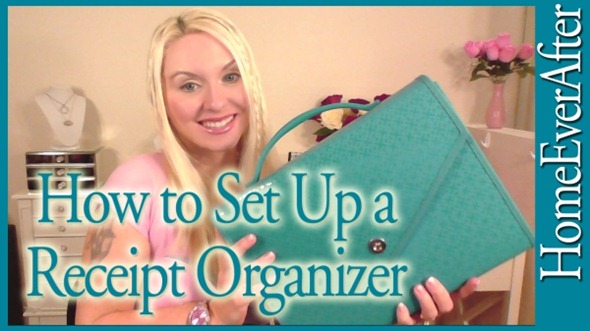 If you had good intentions of getting organized in the new year but didn't know where to start for setting up a system for filing receipts, don't feel bad. Here is a video that will help make a receipt organizer for all of your paper receipts.  Watch the video below to find out how to set up a receipt organizer with an accordion file.
Are you having a hard time keeping up with all the paper clutter? Let's tackle your home organization project one piece at a time. Today we'll start with an easy and fast system for organizing all of your receipts. A receipt organizer is one home system that you really can't live without. If you haven't gone paperless for your filing yet, you need to have a receipt storage system.
There are several receipt organizers you can use, such as an accordion file, binder, hanging file folders, scanner (for digital archiving), or just a plain shoebox! Which system works best for you will vary with your needs.
First, watch the video below: How to Set Up a Receipt Organizer with an Accordion File
If you don't see the video above, click here to watch the video.  Is your home office a little out of control? It's a new year and there's still plenty of time to set up your home systems.
Supplies to Set Up a Receipt Organizer with an Accordion File
Accordion file (about $15 at mass retailers)
Pen or marker for writing on labels
(optional) Dymo Labelmaker
Instructions: How to Set Up a Receipt Organizer with an Accordion File
Step 1. Buy the necessary supplies.
Step 2. Decide if you will file your receipts by store or by month.
Step 3. Using the cardboard labels which came with your accordion file, fill out a label for each tab in the folder.
Step 4. File all of your loose receipts in the appropriate tab.
[colored_box color="purple"]
From the video:
Over the years I've had many different methods of organizing receipts.  I used to organize them by store.  When I lived in a small town where we only had a few stores so there were only like four stores that I ever shopped at.  It was easy to group everything by store in my binder, but later on I found that it was necessary to group everything in something a little bit more sophisticated but still easy to set up and easy to manage.
The accordion binder file system allows me to group all of my receipts together by the month that they were from.
This is an accordion folder and the neat thing about this one is that it has a handle and a lot of them don't.  It's easy to pick it up.  You can store it in the top of a closet or even on a shelf underneath your desk and just easily pull it out and carry it over to the table where you need to sort receipts.
Or if you want to use your extra time while you're waiting in line with the other cars at school for your kids to come out you can even grab your stack of receipts that you need to file, grab your accordion file folder and bring it along with you in the car so you can use that extra time and get everything filed.
These are also really good for coupons, like coupon inserts, but we'll talk about that in a different video.
[/colored_box]
Have you ever used an accordion file to organize your paperwork? Tell us what you use your accordion folder for in the comments below and if you used this video guide to get set up with a receipt organizer!
Want more of my videos?  Subscribe to my YouTube channel.   How to Set Up a Receipt Organizer with an Accordion File is linked to Delightfully Inspiring, Works for Me Wednesday and 11th Heaven.