New Year, New Blogging:  2012 is here and it's time to take your blogging to an all new level! It's a new year and the perfect chance to start over and get the email monster under control that may be taking up all your blogging time.  If one of your new year's resolutions is to get your email organized, we can help.
Are PR, freebies, affiliate deals, junk mail an spam emails ruling your day?  Do you wake up to hundreds of emails and find it necessary to clear your inboxes several times a day, but your inboxes are still never empty?  Don't let emails take over your inbox!  We'll show you how to get your email inbox under control.
Don't Let Emails Take Over Your Inbox
As bloggers, we know our services are in demand and everyone wants us to help "spread the word".  How many emails have you had asking you to do that lately?  However, if you want to have time to blog about anything substantial, aka what YOU want to blog about, you have to draw the line between blogging for companies and blogging for yourself/your readers.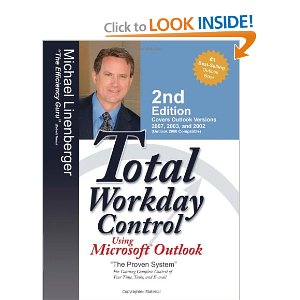 When I read Total Workday Control and started using Michael Linenberger's strategy for managing my time, I realized how important it is to schedule email time.
I've since written a schedule of my computer time for the day, which includes an allotment for reading and responding to emails.
Using a timer to monitor my computer time is key to making sure I don't spend longer on a task than I want to.  This point is especially important when it comes to emails, which tend to usurp time by their very nature.
Linenberger also advocates getting away from the endless email folders that are supposed to keep us organized.  Instead, I use 2 "Processed Emails" folders.  The first folder is called "Processed Business", the second is called "Processed Personal".
How to Get Your Email Inbox Under Control
1.  Set an email time budget. Decide how much time you are willing to spend each day on reading, writing and responding to emails.  Write this time down and post it near your computer.
2.  Use a timer to stay within your time budget. A simple kitchen timer will work wonders to keep you on track with your time goals.
3.  Delete unneeded emails as soon as they come in. Don't save them until later and don't spend time reading the whole message.
4.  Unsubscribe from email newsletters you didn't request or don't use.  Scroll all the way to the bottom of an email message and hit the unsubscribe button, as long as the email is from a reputable source.  If it's possible that it's from a spammer or that the link may contain a virus, it's safer to just delete the email and move on.
5.  Set up a processed email folder. Once you've dealt with an email, move it to the processed folder.  Dealing with it could be as simple as reading it if no response is necessary.
6.  Keep email replies short. I try to use the 3 sentence reply as much as possible:
Acknowledge what the question, problem, or request is.
State the answer or solution.
Let the reader know what the next step is.
There's really no need to ramble in long, unstructured email replies which just eat up your blogging time.  Stick to the email reply formula whenever possible.
7.  Clear out your email inboxes every night before you leave work (or go to bed).  Make sure to reserve some of your email time on the schedule for the end of your workday.  Take your inboxes down to zero a the end of each workday by moving them to the processed folder, deleting them, or acting on them quickly.
If an email will take longer than a few seconds to deal, attach it to a task (you'll have to read Total Workday Control to learn how to use this system effectively).
8.  Learn to say no. The word no will save your sanity and safeguard your time.  Make choices wisely about what you say yes to.  Always keep in mind the opportunity cost of saying yes: the blogging time you'll give up.
Using these 8 important steps together will get you on the fast track to get your email inbox under control.  Starting over for the new year means getting the most out of your time.  This is the year to make your blog better than ever.  Skip unnecessary email time and use your blogging time for blogging!
We originally published New Year, New Blogging: How to Get Your Email Inbox Under Control on January 3, 2011 and it is also linked to Works for Me Wednesday.