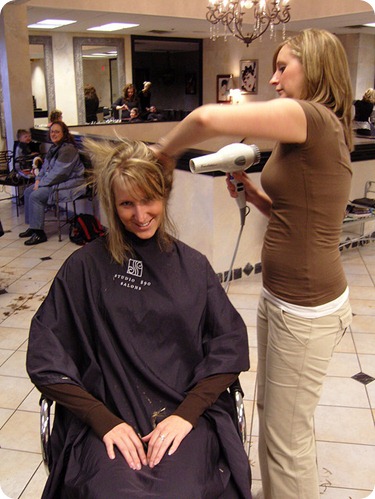 After getting a hair blowout (the hair salon term for having your hair dried and styled), women leave the salon with silky, shiny hair that looks beautiful for days. Many women think it is impossible to create such beautiful hair on their own.
However, by following our do it yourself (DIY) hair blowout tutorial below, you can replicate that just-stepped-out-of-the-salon look without the help of a professional hair stylist.
We'll teach you how to do a DIY hair blowout with our easy to follow step-by-step instructions.
DIY Hair Blowout: Start with a Good Wash
Begin by washing your hair with a good shampoo that is specific to your hair type.
For thinner, flatter hair, wash with a good volume boosting shampoo.
Dry hair needs a good moisturizing shampoo and damaged hair with frayed ends should be washed with a strengthening and repair complex.
The next step in your DIY hair blowout is to follow the shampoo step with a good conditioner.  Make sure it fits your individual needs. For dry hair, use a deep conditioner but one that is not too heavy. Fine hair should have conditioner applied only to the strands and down to the tips, avoiding the roots.
DIY Hair Blowout: Dry and Prep
After cleansing and conditioning, you will want to towel dry your hair by blotting up excess moisture. Refrain from rubbing with the towel, as this will promote tangling and can possibly damage hair.
When hair is towel-dried, apply a good styling product to add body, tame flyaways and reduce frizziness before your DIY hair blowout.  Be sure to coat all of your hair, concentrate on ends and avoid getting on scalp.
Curly hair will benefit from a straightening balm or shine serum.
For thinning hair that does not have a lot of body, apply a thickening spray or some volumizing mousse, but avoid gels that will tend to weight hair down.
DIY Hair Blowout: Section and Blowout
Before you blow dry you will need to separate hair into sections and secure pieces with hair clips or bobby pins. Leave out the first chunk that you will be drying.
1.  Glide your fingers through the section of hair beginning at the roots and continuing through to the ends. Hold the ends and pull hair taut, out and away from your head.
This is to allow the blow drier to reach the area at the scalp that the hair brush can not get to. Point dryer at crown and blow hair at crown, continuing down to ends.
2.  After the roots of your hair are dry, you will need to use a round-barreled brush to continue. While aiming dryer at hair, aim the nozzle facing down onto the hair and pull brush through your hair.
3.  The most damaged part of the hair shaft is the tip, so the ends will dry fastest. Begin the blowout process with the ends to ensure they are styled before they dry too much on their own. While pulling the brush through your hair, hold the dryer 2 inches away and follow the brush through the hair.
4.  After hair is dry, switch dryer setting to cool, pull hair taut and shoot it with a blast of cold air. This will lock in the style and maintain straightness.
5.  Repeat steps above for each individual section of hair.
When finished, apply a nice finishing serum to lock in moisture and prevent flyaways. If your hair is fine or oily, apply serum only to very ends of hair.
A good DIY hair blowout can last for several days. If your hair starts to become greasy at the roots, dab on some baby powder to soak up the excess oils and add volume.  Good luck with your first DIY hair blowout!  Enjoy learning this frugal skill so you can save money from not going to the hair salon!
Photo credit (top) bradleypjohnson.