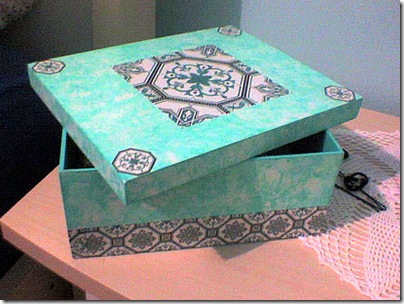 How to Decoupage Crafts
Don't be fooled be the professional finish of decoupage crafts. Though it may look as if it is a complicated process, decoupage is actually a simple and creative art form that can easily be learned.
Just about anyone can learn how to decoupage, and the items to choose from are limitless.  We'll teach you how to decoupage in no time with our easy step by step instructions!
The General Idea:  The basics of decoupage include cutting and pasting and the technique is simple. After cutting out various pictures, they are placed onto a desired object and secured in place with glue.
The object is then covered with several additional coats of glue to protect the pictures and prevent them from coming off.
Supplies Needed for Decoupage
While many craft stores offer extensive decoupage kits filled with all the necessary items to create a decoupage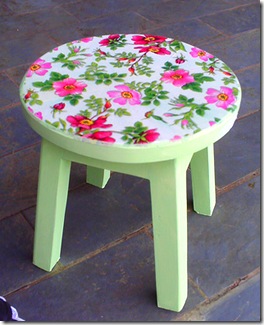 masterpiece, chances are that you already have most of the necessary supplies lying around your house.
If you choose not to purchase a ready made decoupage kit, you will need to have on hand these decoupage supplies:
white glue
a popsicle stick
cotton swabs
a damp rag
foam or a small paintbrush
a craft knife
decoupage medium (used to glue the pictures to the object)
brayer (a miniature rolling pin designed to remove wrinkles and glue)
You will also need the object that you will be covering. This can be just about anything you desire, including photo albums, shelves, picture frames, mirrors, various storage boxes, vases, coasters, lamps and even furniture. You are limited only by your imagination.
Additionally you will need pictures cut out from a magazine or catalog, written poems or verses, greeting card pictures, quotes printed from websites, wallpaper, fabric samples, or specialty designer paper made just for decoupage.
How to Decoupage in 9 Easy Steps
You are now well on your way to learning how to decoupage!
1.  Begin by making sure your chosen object is clean and dust free.
2.  Cut out all of the pictures you will be using.
3.  Arrange the pictures in the order you will be placing them on the object.
4.  Cover the back of the picture entirely and add a dab of glue to the area of the object that will be covered. Place the picture onto the object and gently push down the picture with your finger.
5.  Use the brayer or a popsicle stick to smooth out any remaining wrinkles and excess glue.
6.  Continue this process until all pictures are glued onto the object. Pictures can be overlapped if desired.
7.  Allow the glue to dry completely.
8.  Coat the object with decoupage medium.  Let coating dry completely.
Frugal Tip:  If you do not have decoupage medium, you can create your own by mixing 3 parts glue with 1 part water to form a diluted glue paste.
9.  The final step is to continue to add layers of glue paste until edges of pictures are completely sealed. After pictures are sealed you may continue adding additional glue layers until you achieve the desired results.
Here are some great examples of creative craft projects that have been created with decoupage: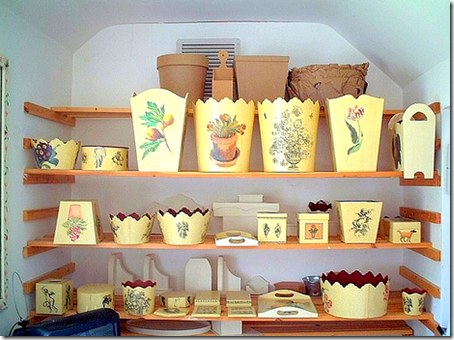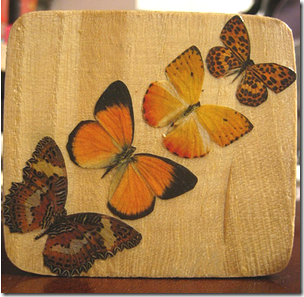 This article is linked to Works For Me Wednesday and Homemaker Mondays.  Decoupage photo of teal box by Tábata – Happy Artes. Decoupaged containers on shelf by Wolfiewolf. Decoupage stool by Soso Arteira.  Decoupage wooden block with butterflies by /Francesca.