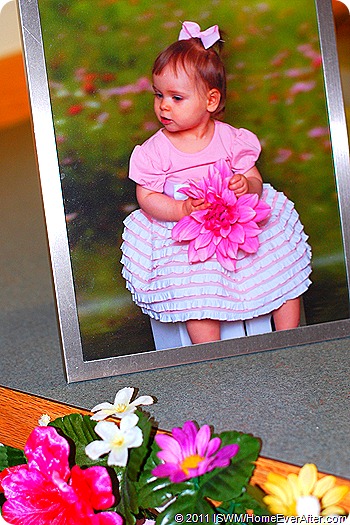 Homespun touches are quick and easy home décor tricks to integrate into your home décor. 
You can create tons of visual interest in your home decorating by taking elements out of a photo and pairing them with the framed photo.  I've included an example of how to use this decorating trick in the photo at left.
You can see that the portrait of my daughter, Seven, has her sitting in front of a field of flowers and holding a huge pink dinner plate dahlia flower.  What better way to take these flat elements and give them life than to pair this framed photo with flowers? 
We've taken a silk floral garland and strung it along the edge of the counter (using 3M Command hooks so it doesn't damage the counter) right underneath the portrait's photo frame. 
Although the silk flowers aren't the exact same kind of flower used in the photo, they do mirror the same colors.  Putting these flowers right beneath the frame really causes the floral element to pop in the portrait.  
Using the tricks in our Homespun Touches is an easy way to utilize the décor elements you already have and maximize their visual potential.   Look for opportunities to use the Giving Life to Flat Images trick in your home.
You could easily adapt this trick to almost any photo you care to use.  If you have a photo of your children posing with Mickey Mouse at Disneyland you could easily hang the frame on the wall with a Mickey Mouse ears hat fastened right behind the top corner.
Love our Homespun Touches?  Subscribe to our free updates to get them delivered to your email!  Homespun Touches – Giving Life to Flat Images is linked to Wordless Wednesday at WordlessWednesday.com and 5 Minutes 4 Mom, Works for Me Wednesday, 11th Heaven.