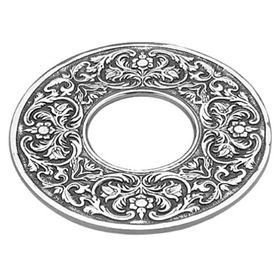 There are so many household items that we either don't use or we use and don't know the real names for.  A local craft store selling decorative trivets at their Christmas sale had a lot of the female shoppers asking, " What is a trivet?  What would I use it for?"  If you've ever wondered, "Just what is a trivet used for?," you've come to the right place. 
Homemaker Basics: What is a Trivet?
A trivet is one of many homemaker basics.  A trivet is a kitchen gadget, a flat horizontal kitchen item which goes on a table, and on top of it you set  a serving dish, pan, or bowl of hot food.  Trivets have 3 legs on the bottom to raise them up from a table.  The purpose of a trivet is to keep the heat raised up off of the table's surface so that it won't cause heat damage or burns.  
Chances are, you already own a trivet and didn't know what it was called.  Maybe you can even remember seeing a trivet in your mother's or grandma's kitchen.
Where did Trivets Come From?
The word "trivet" you'll notice has tri- at the beginning.  That prefix meaning three is because trivets have 3 legs or knobs on the bottom which they sit upon.  The word "trivet" comes from the Latin word "tripes", which means tripod when translated. 
Trivets originated from open hearth cooking in the olden days of cooking (circa 19th century) on a fire in an open oven.  Some of the trivets did have 4 legs then to give them more stability in the fire.  The old trivets also had a long metal handle to use for putting food into the fire and taking it back out of the open oven.
What do Trivets Look Like?
Trivets have a variety of looks, shapes, designs, and even sizes.  All the pictures in this article are of trivets, so you can see just how varied their appearances are. 
The silver trivet (shown above left) is by long-time maker, William Armetale, which has been producing fine silver items since 1892.  The intricate design and cut out center make it a beauty to look at, while still protecting your table and table linens.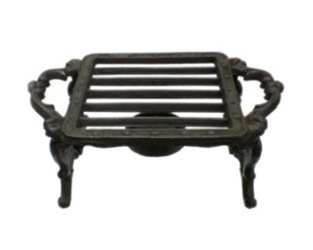 The black cast iron trivet (at right) is very tall, with long legs which raise it up off of a table.  While the extra height may or not be necessary to protect your table from the heat of the pan or serving dish, it does add an interest appeal and height to your tablescape.
What are Trivets Made of?
Trivets are made from a variety of materials.  Although they started out being made from cast iron and heavy metals, trivets have evolved with the times to incorporate the latest in kitchen technology as far as materials.  Wood trivets and cork trivets can be found in kitchens with a natural look.  These materials  are lightweight and simple, but still serve the purpose of insulating the table from heat. 
One of the most trendy kitchen materials now is silicone, and you can find trivets made of silicone (shown below).  Silicone trivets are heat-proof, dishwasher safe, lightweight, resilient, and inexpensive.  You may not want a silicone trivet on your tablescape for dinner guests, but for a weeknight meal with the family they do nicely. 
Silicone trivets usually do not have legs on the bottom because they don't need them.  However, they often have raised designs which still create distance between the dish and the table.
Homemaker Basics: What is a Trivet? is linked to Works for me Wednesday, 11th Heaven and Kitchen Tip Tuesday.  ISWM may or may not make money from anything you see, read, or click on our family of websites, including affiliate links.