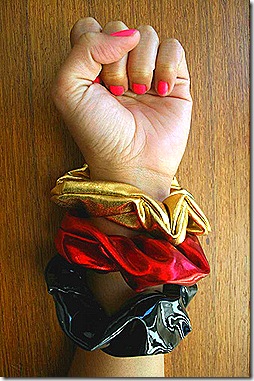 Sewing: Learn How to Make Hair Scrunchies
Hand made fabric ponytail holders, otherwise known as hair scrunchies, are a simple fashion accessory and are easy to make.  It's easy to learn how to make hair scrunchies, the perfect frugal hair accessory to match any outfit! Just follow our step by step instructions and you can make your own hair scrunchies for less than $1.
With either a needle and thread or a sewing machine, some elastic and the fabric of your choice, you can make your own scrunchies to add to your wardrobe or even sell at your local flea market or craft fair.
What are Scrunchies?
Worn by young girls, teenagers and women alike, scrunchies are strips of elastic covered by tousled pieces of fabric. They provide a fashionable alternative to traditional elastic ponytail holders and can even be used to twist hair into a stylish bun.
Selling in department stores for as much as $5 per piece, homemade scrunchie materials will cost you under a dollar per piece and can be customized to match your wardrobe. Holiday themed scrunchies are always a hit for younger kids and make great gifts.
Supplies Needed to Make Scrunchies
You will need to purchase:
One 10 inch by 5 inch piece of fabric
6 inches of narrow elastic for each scrunchie you wish to make
Needle
Thread
Sewing machine (optional)
Straight pins (optional)
Iron (for pressing seams)
How to Make Hair Scrunchies
1.  Cut out a rectangle of fabric, about 7" long (longer or shorter for bigger or smaller scrunchies) and about 3" wide.
2.  Cut a piece of elastic about 2" shorter than your fabric length.
3.  Begin by folding the fabric carefully in half with the good sides of the fabric meeting together. It is best to attach the sides with pins to allow for neat, even sewing. Based on your personal preference, you can use either a sewing machine or a simple needle and thread to stitch the fabric together lengthwise.
4.  You will now have an open-ended tube of fabric. Using an iron to ensure accuracy, press the seams of the fabric open. This is done to reduce bunching of the fabric and helps to smooth the appearance of the scrunchie.
5.  When finished ironing, turn the fabric right side out.
6.  On both sides of the tube you will need to turn the fabric inside about ½ of an inch.
7.  Place the elastic inside of the fabric tube. Knot the ends of the elastic and stitch together the fabric at each end. Now the elastic will be attached in a circle.
8.  For the final step, stitch together both ends of the fabric tube and your hair scrunchie is complete.
Now That You Know the Basics…
Scrunchies can be tossed into the washing machine along with the rest of your everyday laundry. Scrunchies are versatile and can be as casual or as dressy as you like, depending on the type of fabric you choose. Denim and cotton are sturdy fabrics good for everyday scrunchies while silk and satin work well with dressier outfits. Taffeta and organza are lightweight and work best with thinner hair.  Enjoy sewing your new frugal hair scrunchies!
Next, read more in our Learn How to Sew series: Learn How to Sew a Button, Learn How to Cut Out a Pattern, and Learn How to Patch Jeans.
Photo by Flickr's we_heart_heartbreakers.