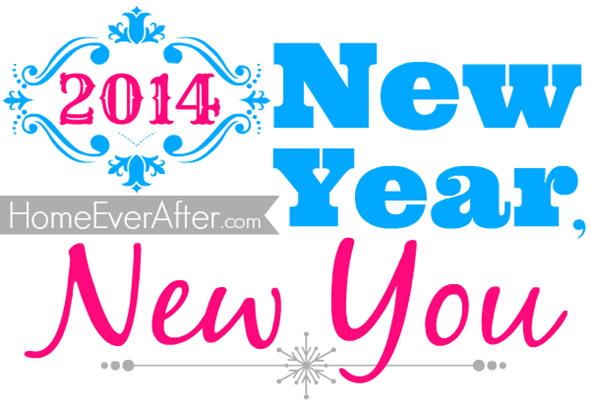 If you're ready to start on the New Year, New You 2014 Life Overhaul Plan, this is step 3: Overcoming the Top 11 Common New Year's Resolution Mistakes.
---
Did you miss the beginning of the series? Go to the New Year, New You 2014 Plan
---
Remember in step 2 when we talked about the top 11 problems with new year's resolutions that make them impossible to keep?
Getting an understanding of these mistakes is essential if you want to succeed with your new year's resolutions this year. In this step, we go through each one of the most common problems and find out how to fix it to make a realistic resolution.
Overcoming the Top 11 Common New Year's Resolution Mistakes
Problem #1: They're too vague.
A vague new year's resolution doesn't have enough detail to give you a clear understanding of what to do.  Vague resolutions are goals like:
"Be better at sports"
"Become a superstar"
"Have more energy"
"Get in shape"
"Be a better mom" 
"Get organized"
These resolutions aren't goals, they're ideas.  Ideas are a great starting place, but you can't work on a goal that is little more than an idea with no direction. 
If you have any vague ideas on your resolutions list, refine them by picking specifics related to the general idea.  Instead of "be a better mom", you might write "spend 2 nights a week doing family activities with my kids" or "cook one dinner per week with my son as my junior chef helper".  Both of these rewritten statements are specific actions you will take to make an effort towards the idea of "be a better mom".
Problem #2: They don't have a measurable outcome (you won't know if you've succeeded).
If your new year's resolutions don't have a measurable outcome, you can't possibly know if you achieved your goal or not at the end of the year.  Here are some resolutions with no measurable outcome and examples of how to fix them:
Not measurable:  Lose weight.
Measurable:  Lose 15 pounds.
—
Not measurable:  Get more sleep.
Measurable:  Get 8 hours of sleep a night at least three times a week.
—
Not measurable:  Move up in my career.
Measurable:  Get a new certification and ask my boss for a promotion within 6 months.
—
Not measurable:  Get in shape.
Measurable:  Get my waist back down to 36 inches so I can fit in size 5 jeans.
—
All of the measurable resolutions have clear details that are specific.  You'll know for sure if and when you achieve your goal.
Problem #3: You gave up on the same resolution before.
If you make the same new year's resolution every year and give up on it by the end of January, don't make the same resolution again this year.  Something about that resolution is causing you to give up, and your pattern of giving up on it quickly year after year makes it okay in your mind to give up.  The history of failure even prepares you to fail on that resolution again!
If you make a resolution to lose 20 pounds every year and you give up before you've lost 20 pounds, don't make that resolution again.  If the topic of the goal is something you still really want to do (like lose weight), try a different angle on the same resolutions. 
Instead of "lose 20 pounds", you might choose a goal that is focused on being more active.  Try "walk up the stairs to my office instead of taking the elevator 3 times a week" or "take a walk around the parking lot during my lunch break each day".  These fresh new resolutions are easy to get excited about and don't have the doom of past failures attached to them.
Problem #4: You don't know the first step to take on your resolution.
If you make a resolution to "become a UFC fighter", but don't even know what first step a person would do to make that happen, you have a problem.  This is easy to fix! 
With so much information on the internet and in blogs especially, you could do a web search for "how to become a UFC fighter" and find articles about what kinds of classes to take, what gyms to join, what books to read, and even coaches that could help you.
Problem #5: You have no plan or steps on how to accomplish the resolution.
If your new year's resolution to "get a promotion" is your entire plan, you've got a problem.  A goal always needs a step-by-step plan for how you intend to achieve it.  If you feel like making a plan is too hard, just concentrate on writing down the first step you could take. 
For the resolution of "get a promotion", a logical first step would be to schedule a meeting with your boss to let him/her know you would like to move up in your career this year.  Asking your boss what they'd like you to work on is a no-brainer; he/she will tell you if you need more school, extra on-the-job training, etc.
Then just write down all those things in order of importance and you've got the basics of your plan!
Problem #6: You don't have an accountability partner to support your resolution.
If you have nobody to help keep you accountable, you're more likely to make excuses to yourself when you're feeling weak and want to cheat!  Choose a friend or family member to help support you and keep you on track. Make sure they'll support you when it gets hard, not give in to you.
Even facebook friends and blog readers can be great for accountability partners!
Problem #7: You didn't tell anybody about your resolution.
If your new year's resolution is a secret, you might have a feeling in your mind that nobody will know you failed if you give up.
Tell lots of people about your resolution.  Tell your coworkers, kids, parents, friends, siblings, spouse, etc.
Problem #8: Your resolution seems impossible (or is actually impossible).
Some people choose resolutions that seem impossible to them.  If your resolution is to make a million dollars this year, but you're unemployed now, it probably seems impossible in your mind to achieve this goal.
On the other hand, some people choose resolutions that really are impossible.  For example, if your resolution is to get your master's degree this year but you haven't started on a bachelor's degree in college yet, then that goal is an actual impossibility.
If you test your resolution and find that it seems (or really is) impossible, rewrite it to focus on a specific measurable goal that will help you achieve the eventual goal.  Going back to the master's degree resolution, you could rewrite your resolution to earn college credits this year towards a bachelor's degree, with the plan of getting a master's degree after graduation.
Problem #9: Your resolution is about things you can't change.
Some things can't be changed.  If your resolution is "stop dealing with my ex-husband because he makes me mad" but you have to still interact with him because of custody or working together, that resolution is not realistic.  Some things really can't be changed. 
You could refocus your resolution on a part of the problem that you really can change.  For example, you could choose "only talk to my ex over email so I can keep in control of my emotions and reaction" or "have a family member's house be a custody exchange point so that I don't have to see/talk to me ex as often".
Problem #10: Your resolution involves someone else (not you) making changes.
If you made a resolution for your husband to stop drinking this year, you need to change it ASAP!  I'm not saying your husband's drinking problem shouldn't be changed, but if your resolution involves someone else changing, you'll probably end up sad, frustrated and disappointed.
Pick a part of the resolution that you can control.  If your spouse has a violent drinking problem, you could choose to go to a support group for spouses, to move to a safe location without him while you talk through a mediator, or ask them to start counseling.
The point is that you can't make someone else change, so resolve to take actions that involve you.
Problem #11: Your resolution is something someone else wants you to do, but you don't really care about.
If your spouse wants you to lose weight, your parents want you to get along with your brother, or your teacher/boss wants you to be more organized, but you don't really feel these things need to change, the resolution will probably fail. 
Ask yourself, "Do I really care about achieving this?" If the answer is no, you should probably pick a new resolution. On the other hand, it's always a good idea to be nicer and more organized!
We've reviewed the 11 most common new year's resolution mistakes.  Next, we'll talk about making a new year's resolutions punch list.  If you missed the last step, read it here:  New Year, New You: New Year's Resolutions.