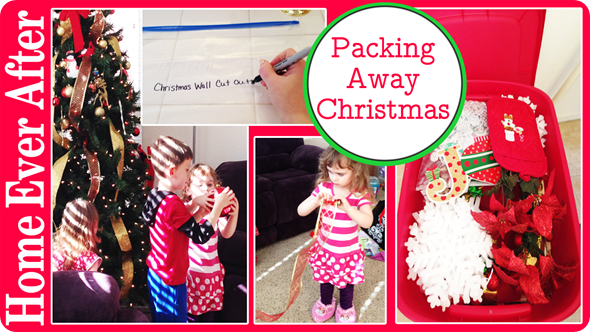 Taking down the Christmas decorations and tree is something I've always done on my own (except for my husband dismantling the artificial Christmas tree and packing it into the box.  This year I decided that my kids were old enough to help un-decorate the tree and help put away and organize all the decorations.
I have lots of organizational tips and trick for packing away Christmas decorations and other seasonal décor.  Watch my video below to see our whole process of taking down the winter wonderland, complete with before and after pictures of a fully decorated living room and then an empty one!
Packing Away and Organizing our Christmas Decor:
If you don't see the video above, click here to watch the video. Want more of my videos?  Subscribe to my Home Ever After YouTube channel.
Since the girls just turned 3 and 4 and Truett is 6, there is a lot they can do to actually be helpful in the holiday take down process. It was actually a lot easier and went much faster with all of them helping me. Do you still do your Christmas breakdown alone? How old were your kids when they started helping (or took it over for you)?