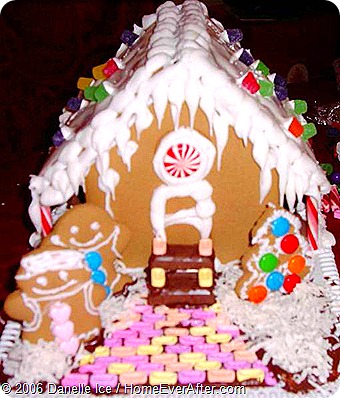 What do dream of when you imagine the perfect gingerbread house for your holiday home?
Is it clumsily put together by a small child and looks like it will only hold together just long enough to be eaten?
Is it master planned with creative use of candy to fashion architectural elements which would rival Willy Wonka?
Whatever your gingerbread house dreams entail, it's time to start planning and designing the gingerbread house for your holiday home.
Essential Christmas Home Décor – Gingerbread House
The gingerbread house pictured at left was a collaborative project between my then-6-year-old daughter and my husband.  As you can probably tell, she didn't do much of the work, just most of the watching!
He designed some fabulous gingerbread house elements out of candy, which I just love:
Starlight mint candy to serve as the round window above the door
Melted and drizzled marshmallow cream on the roof to create snow and icicles
Multi-colored Pez candies to form the bricks in the walkway
Shaved coconut to create freshly fallen snow on the ground
Plan your gingerbread house now, complete with sketches, candy notes, and a candy shopping list.
Get creative in planning the gingerbread house for your holiday home.  Have a contest amongst your older children to see who can come up with the most unusual gingerbread house uses for candy!
We originally published Holiday Home – Plan the Candy for Your Gingerbread House on Home Ever After on November 7, 2011.  It is linked to WordlessWednesday.com and 5 Minutes 4 Mom.