If you're wondering what to get your kids, nephews, nieces, or grandkids for Christmas, don't worry.  We've got our top 9 picks of the hot selling kids' toys for this holiday season in our Toy Gift Guide.  Here are some of our favorites, and we think your kids will agree!
9 Hot Christmas Toys Your Kids Will be Asking Santa For
About the Vtech Catch Me Kitty:  We tried this robot kitty toy out on my 3 youngest kids (ages 4, 23 months and 10 months) and all 3 of them loved it!
It plays a really catchy song too that gets stuck in everyone's heads, even mom and dad!
 2. Pocoyo Swiggle Traks Feature Track with Bridge
About Pocoyo Swiggle Traks: If your child watches the Sprout network or other children's programming by nCircle, they've no doubt seen and fallen in love with Pocoyo.  The Pocoyo Swiggle Traks commercial is all over Sprout, The Hub, and any other place you'll find kids' shows, ensuring that every child is begging for this toy for Christmas!
The Pocoyo Swiggle Trak toy is really cool.  I spent some time snapping the tracks together to test it out and my son is going to love it when he opens it on Christmas morning!
3. Disney Princess Ultimate Fairytale Kitchen
About Disney Princess Ultimate Fairytale Kitchen: This Disney kitchen is only for princesses older than 3 years old because of the small pieces.  Isn't it pretty in pink?  You favorite princess' pictures and Disney dishes characters are included (see the picture).
 4. Simon Flash: All of us 30- and 40-somethings remember the original Simon game from our childhood.  Simon flash is an update on this fun color sequence game.
5. Vtech Inno Tab Interactive Learning Tablet
About Vtech Inno Tab Interactive Learning Tablet:  This Vtech toy is the "new hotness" in kids' learning tech toys this year.  It has a 5" touch screen, e-books, learning games, apps, and mp3 player.  Works with PC or Mac and connects to the computer by USB.  Ages 4-9 years old.
6. Crayola Crayon Maker with Story Studio
About Crayola Crayon Maker with Story Studio:  I don't know any child (or adult) who wouldn't have a blast making their own crayons, choosing the colors, and watching them melt!  And moms like me will appreciate that these creative swirl crayon are melted down from the broken leftover bits of crayon which have been lurking around the house and in the toy boxes!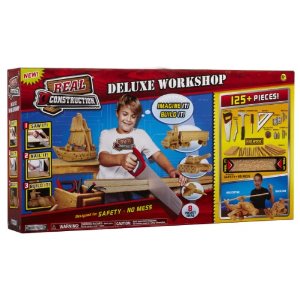 7. Real Construction Deluxe Tool Workshop
About Real Construction Deluxe Tool Workshop:  This woodworking kit is designed for kids age 6 and up.  The common parent observations about this building set is that the instruction manual doesn't tell you sizes to measure any of the pieces for the included 6 project designs.
All in all, for safe tools (not dangerous) that can still cut the kid wood (heavy duty wood-looking foam), it hits the spot.  My son would love to saw wood in the house and not get in trouble for a)sawing or b) making a sawdust mess!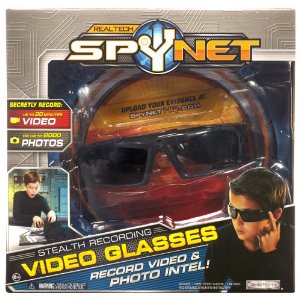 8. Spy Net Stealth Video Glasses
About Spy Net Stealth Video Glasses: The sunglasses actually record 20 minutes worth of video!  They upload the video to your computer with a USB connection and work with both PCs and Macs.
Sneaky tweens (both boys and girls) will be in love with this toy, especially for catching their brothers and sisters doing anything wrong so they can show the "evidence" to mom and dad!  Ages 8-12.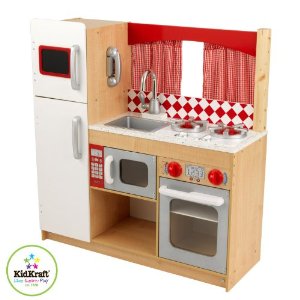 9. Kidkraft Suite Elite Kitchen
About Kidkraft Suite Elite Kitchen:  You know I love homemaker toys, and anything to play house is both a teaching toy and lots of fun!
My favorite part (of course) is the red and white kitchen décor which matches my own kitchen.  My girls would be digging this kitchen play set if it came from Santa for Christmas!
Disclaimer:  This article has material connections.  IS World Media (ISWM)received no fees for the writing or publication of this article.  This article is a product review written by Danelle Ice and is her honest opinion.  A sample of the VTech Catch Me Kitty and Pocoyo Swiggle Traks were provided to ISWM at no cost to facilitate the review process. This post contains affiliate links and readers may assume that HomeEverAfter.com receives compensation when affiliate links are used.