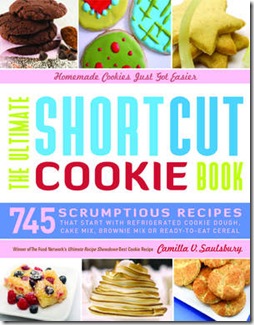 I just went through the book The Ultimate Shortcut Cookie Book by Camilla Saulsbury and can't wait to share about this great time-saving treasury.   A fan of baking (and especially holiday baking), you can imagine how thrilled I was to receive a new cookbook in the mail dedicated completely to quick and easy dessert baking!
The idea of The Ultimate Shortcut Cookie Book cookbook: easy recipes great for any homemaker or aspiring baker who wants to turn out quality baked goods but is short on time.  All 700+ recipes in the cookbook start with ingredients that are ready made to speed up the process. 
There are really creative recipes in this collection, as well as tried and true recipes which you may have baked before.  However, all the recipes are the quicker version which starts with a ready-made ingredient, such as refrigerated cookie dough, brownie mix, boxed cereal, or cake mix.  Not having to mix up all the ingredients can help you to make up  cookie batches quicker than ever!
What Could Be Improved
Everyone loves cookbooks with full-color pictures, because it's nice to see a photo of the food you'll be cooking from the recipe.  The Ultimate Shortcut Cookie Book only has 2 full color sections of photos, 1 in the middle and 1 at the end of the book.
About the Author
Camilla V. Saulsbury is an award winning food writer who has been published in both Better Homes and Gardens magazine and Southern Living magazine.  Her recipes have also populated 9 of her other books, listed below.
Other books by this author include:
The Ultimate Shortcut Cookie Book:
745 Scrumptious Recipes That Start with Refrigerated Cookie Dough, Cake Mix, Brownie Mix, or Ready-to-Eat Cereal
by Camilla Saulsbury.
Publisher: Cumberland House
404 pages
Buy at Amazon for $16.49.
Where to Buy This Book
You can buy The Ultimate Shortcut Cookie Book by Camilla Saulsbury at Amazon for only $16.49 plus free super saver shipping.
—
Danelle Ice is a problogger and is the founder and editor of Home Ever After.  She's a married mom of three, a Purex Insider, mommy blogger for Oscar Mayer, and Walmart More Than 11 Moms.  Also check out Danelle on Twitter at @HomeEverAfter.
Disclaimer:  In compliance with the FTC Guides, updated 10/5/09, this article has material connections.  This post is not paid content and no fee was received for the writing or publication.  This article is a book review written about the cookbook, The Ultimate Shortcut Cookie Book.  A copy of The Ultimate Shortcut Cookie Book was provided to IS World Media (ISWM) at no cost by Sourcebooks on behalf of the author to facilitate the review process.  This review is the honest opinion of our reviewer.