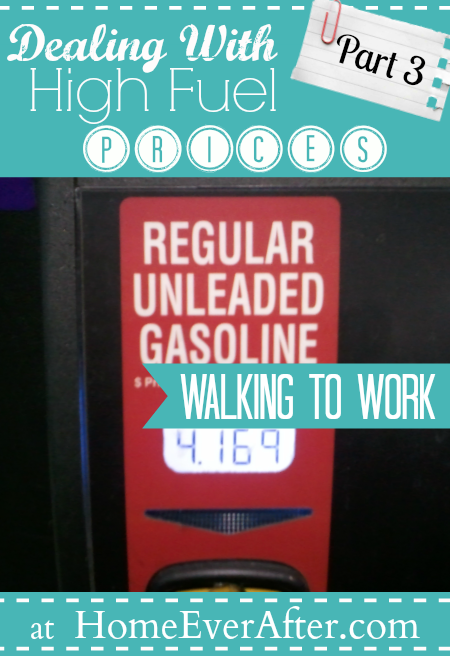 Dealing With High Fuel Prices Part 3: Walking to Work
My husband walked to work each day this week. 2.6 miles there, 2.6 miles back. And I forgot to mention, we live in Alaska. Yesterday it was minus 5° F!
Did you miss Dealing with High Fuel Prices Part 2?  Read it first!
This idea was born from our brainstorm of ways to cut down the fuel expense in our monthly budget. My husband comes home for lunch every day, and we thought packing a lunch a few days a week would eliminate the extra driving. Well, that evolved into the idea of just walking to and from work a few days a week.
So Monday morning, we got up an hour earlier. I packed Flash a lunch and a water bottle filled with HOT water to drink along the way. Flash loaded up the MP3 player with some Tony Robbins (our long-time mentor) and did his Hour of Power while he walked to work. (Not familiar with Tony Robbins? His audio program "Get the Edge" is GREAT – we've completed it numerous times!)
When Flash got home Monday night, he was energized, he was focused, and he was HOOKED! He has walked to and from work every day this week and wants to continue! My husband is getting great exercise, getting alone time to focus on himself and his goals, and we're saving! Plus he's been early to work every day and has been more productive at work and more energetic at home!
Over 5 days this week we saved:
· the electricity from not having to plug in the car (an Alaska thing)
· the fuel from not driving (52 miles = $8.84)
· the fuel burned by idling in the morning
· the wear, tear and maintenance on the car associated with the extra miles
I forgot to mention the oil change that won't be happening at 3 months because the car will not have been driven enough miles yet!  And… the big benefit, Flash lost 3 POUNDS this week!
Apparently, we're not the only ones that have switched from driving to walking in the wake of the fuel price climbs. An article in the Stamford, Connecticut newspaper, The Advocate, entitled "Officers Start Walking to Save on Gas Costs", told how the Stamford Police Department spent $381,000 for fuel in one year and decided things had to change. Now, they are requiring police officers to "park and walk" for at least 1 hour of their shift and banning them from idling their cars.
Frugal Challenge: Think of places you and your family can walk instead of driving!