Nessa is a full time wife and mother of two, living the small town life in rural Texas. She loves cooking everything from tried and true recipes to her own wonderful creations. Catch her blogging at Ramblings of a Texas Housewife and on Twitter @Nessa_TX.
5 Guilt-Free Holiday Treat Recipes
The approach of the holiday season has many of us returning to our kitchens. Now that the heat of summer is a thing of the past, we look toward preparing for Thanksgiving and Christmas celebrations.
Usually the holidays are filled with good food, but food that is not necessarily good for you. I set out to find some seasonal dishes to satisfy my family's sweet tooth without packing on the fat and excess calories. I was pleased with the recipes I found and hope you will be too.
1.  Pumpkin-Bourbon Pudding – Pumpkin is one of my very favorite things and this recipe is a delicious way to prepare it. You get all the rich taste of your favorite pumpkin dessert for only 169 calories and 4 grams of fat per serving.
2.  Heavenly Baked Apples – These warm, spicy apples are a treat that is easy enough to whip up for a week night after-dinner treat. The addition of dried fruit makes this recipe a nice change from your everyday baked apple recipe. These have just 142 calories per serving and are fat free.
3.  Orange Angel Food Cake with Fruit Compote – I love angel food cake and I adore orange anything, but to me it is the fruit compote that makes this recipe a star. It is such a luscious blend of apricots and cranberries and a wonderful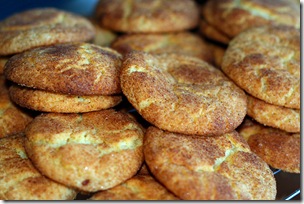 compliment to the citrus flavor of the cake. This is a dessert that will wow your holiday guests.
4.  Cinnamon Sugar Snickerdoodles – This is a wonderful cookie to have on hand for after school snacks, bake sales, or even your holiday cookie platters. The cinnamon flavor is just the thing for fall. This recipe makes 24 cookies that are only 63 calories each.
5.  Irish Coffee Meringues – Meringues are one of my favorite treats and since they are very low in fat you can have a few without feeling guilty. These Irish Coffee meringues taste like a decadent indulgence, when truly they are not full of fat and calories. Topped with chocolate covered coffee beans, these are great on a cookie platter or as a gift.
These recipes can help you to make sweet treats for your family during the holidays without all the excess calories, sugar, and fats. They are great for all those watching their weight or just trying to make healthier choices when it come to eating. I hope you enjoy them!
Stay tuned next Monday for In the Kitchen with Nessa to read Quick Comfort Foods.  Make sure you subscribe to our free updates so you don't miss any of her great kitchen how to articles!
Find more cooking articles at Tasty Tuesday, Tempt my Tummy Tuesdays, and Homemaker Mondays.  Snickerdoodle photo by jimw.