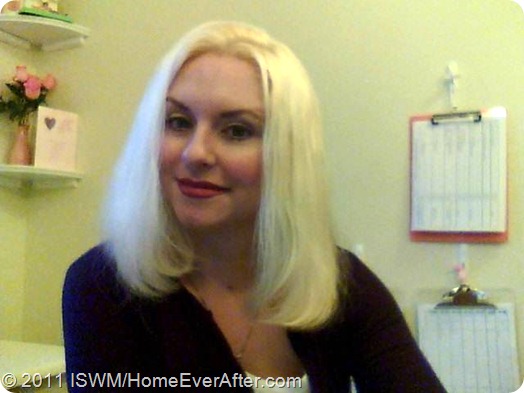 Good morning!  It's 4 am here in Alaska and I get up this early for a good reason.  No, not because I'm crazy or have bad sleeping habits!  In Alaska we're way behind the other time zones, so I have to start my day very early to communicate with businesses on the East Coast during business hours.
Even more important than that, though, is the fact that what's important has to come first.  On New Years do you look back and wonder why you didn't accomplish those big life goals in the past year?  I've been there, I've wondered with you, I've vowed to do a better job in the upcoming year, and I've failed again.  More than once. So let's get a jump on New Year's resolutions together by doing something about it!
That's me in my office in that picture. I don't always look that cheerful at 4 in the morning, trust me! You can see all the pretty pink things that decorate my office and make me happy in my work surroundings.
Assignment 1
Today, before you do anything else, make a list on a piece of paper of the 5 major things you wanted to do with your life so far (get a college degree, write a book, open a cupcake bakery, build a greenhouse).
Just list them out in no particular order.  There – step 1 is the hardest part and it's already done!
Assignment 2
Step 2 is your other assignment (should you choose to accept it!) for today.  Pick just one thing on your list of five you just made.  This is the "badge" you're going to work on for the upcoming year.  What is 1 step you can take today to start making it a reality?  Brainstorm long and hard and write down that 1 first step.
It's important to make time for what we hold dear.  Let's use our time to accomplish the things we want to be proud of!