My friend Crystal Paine of Money Saving Mom is giving away her highly sought-after free e-book about freezer cooking today and tomorrow only!
Click here to get your free MoneySavingMom freezer cooking e-book.  The screenshot below also shows all the ways you can get it for free.  Hurry though, because the free freezer book deal is only through November 17, 2011.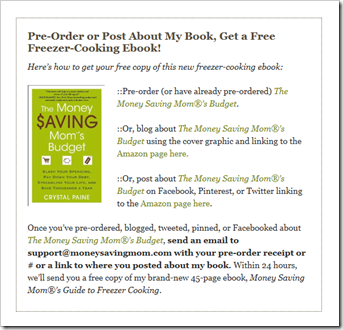 As you can see, the promotion is to let everyone know about Crystal's awesome new book on Amazon, The Money Saving Mom®'s Budget!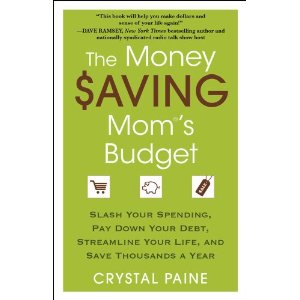 The book will be released on January 12, 2012, but right now is available for pre-order.  You bet I'll be purchasing mine on Kindle version (because I'm minimalist like that and love to take my books with me everywhere I go!).  Don't have a Kindle yet?   Get your Kindle here.
Remember that you can also read the Kindle versions of books on your iPhone, iPad, Android, Blackberry, PC and Mac with the appropriate apps.  So you could squeeze in time to read the Money Saving Mom's Budget while you're waiting in line at the grocery store or at your kids' extra curricular activities.  Squeeze in that NET (no extra time)!