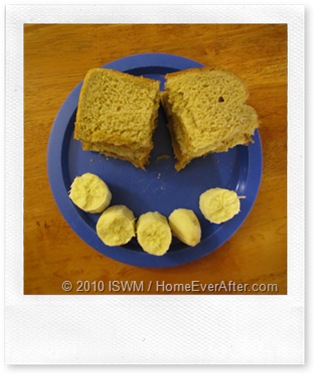 It doesn't take long to make a regular "boring" lunch fun for your kids, take it from me!  I have a whole new line of fun kid foods that take little or no extra time to make after the actual food preparation. 
If you ever thought it was impossible to get your kids to eat their veggies or eat strange combinations of food paired together, think again.  You just have to make the foods look fun to get your kids to gobble them up!
This week's fun kid food is a pretty normal lunch: peanut butter and banana.
Fun Kid Food: Smiley Face Peanut Butter Sandwich and Banana
This recipe is a quick and easy lunch that takes literally 10 seconds to make "fun" for your son or daughter.  A regular peanut butter sandwich turns into eyes, and banana chunks become a smile to create a lightning fast edible smiley face on a plate. 
Make a peanut butter sandwich and cut into 4 squares.
Cut a half of a banana into 1 1/2" – 2" chunks.
Stack 2 squares of sandwich on top of each other to form an eye.  Repeat with remaining 2 squares.
Arrange banana chunks into a smile. 
There you have it!  Tell your kids to eat their PB & B smile and watch them devour your fast and fun kid food creation (and get voted the coolest mom or dad of the day)!
Fun Kid Foods: Smiley Face Peanut Butter Sandwich and Banana is linked to 11th Heaven, Kitchen Tip Tuesdays, Tasty Tuesday, Tempt My Tummy Tuesdays.