We recently found an old farm style kitchen table in pieces at a local consignment shop.  It had a dark brown faded finish and a lot of scratches. It was easy to see its potential as a great kitchen table with a little imagination.   All it would need is some sanding, stain, paint, and reassembly.  This frugal project cost only a fraction of the same table at retail price. 
All in all, we paid $40 for the table and about $30 for the paint and staining supplies.  The identical farm table at a local retail store was $200!  Plus, now we have enough leftover paint and stain to refinish matching kitchen chairs should we find them at a consignment or thrift store.
Thanks go to Purdy Paintbrushes for providing the paint brush we used for the staining process.  My husband, Michael, performed the staining and used two different paint brushes for separate coats to gauge if the quality of the Purdy brush was better.  Purdy brushes are generally used by contractors but aren't as well known by home DIY enthusiasts who do painting home improvement projects.
Michael noticed that when applying the coat of stain with the Purdy brush, the stain went on easily and the brush didn't lose any bristles.  However, when using the store brand of paintbrush, he noticed that it lost a lot of bristles during stain application.  The result was that we ended up picking bristles out of the table's surface – not something you want to do during your table refinishing project.
We decided to go with a burgundy paint for the legs, sides and drawer, and a warm brown stain for the table top.  The finished project is a beauty!
Farm Table Before and After Photos
This photo was taken after the sanding was started.  Here is the before photo of the kitchen farm table: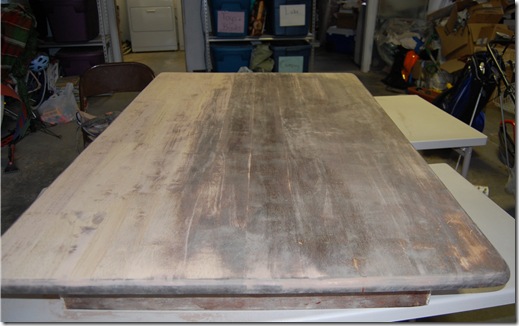 Here are the after photos of the kitchen farm table: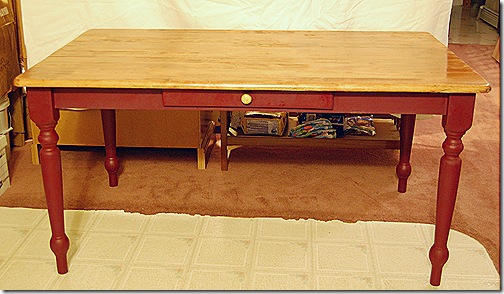 We're excited to move our new-to-us farm style kitchen table into our new house and fashion some matching chairs!  It just goes to show that frugal can be fantastic, as long as you use a little imagination and learn the basic skills to make your DIYs easy as pie. 
Get more Frugal Friday at Life as Mom.  For more before and after projects, visit Making a Happy Home Monday,  Metamorphosis Monday and Tackle it Tuesday.  
–  
Disclaimer:  In compliance with the FTC Guides, updated 10/5/09, this article has material connections.  IS World Media (ISWM) received no fees for the writing or publication.  The product review of Purdy Paintbrushes was conducted by Michael Simmons and is his honest opinion.  The paint brush was provided to ISWM at no cost by the Sherwin Williams Company to facilitate the review process.  We cannot make claims as to the typical results users should expect from this product, as we are trying it for the first time and have no way of knowing other users' experiences.