My husband and I are 30-somethings.  That term now actually means something to us!  We've just purchased our first house (a first for both of us) and we did it with frugal finesse.  How can buying a house be frugal, you ask?  It was frugal because we saved 100% of the cash for our down payment.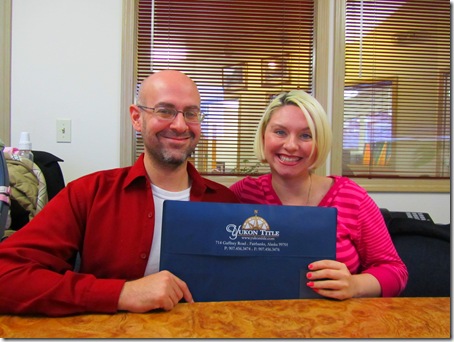 Keep in mind that with our growing family, we desperately needed a bigger place to live several years ago.  However, to make that happen, we would have had to not only take out a mortgage on a house, but borrow the money for the down payment as well and accrue interest on that loan!  That was a financial decision we just weren't willing to make.
So, we got by in a 2 bedroom apartment with 2 parents and 3 kids while we socked that money away for the home down payment.  That's right – 5 of us in 2 bedrooms and a make-shift nursery!  Once we found out we were pregnant again, we had our down payment saved and were ready to buy a house.  The Lord cleared the way for us and on November 16th, 2010, we closed on our new home. 
We took the whole family to the title company!  My husband and I both thought it was important that the kids be with us when we purchased our first home.  Below, we posed for our realtor after signing the title paperwork.  Left to right, the Ice-Simmons clan: Seven, Michael, Hannah, Truett, and me (Danelle).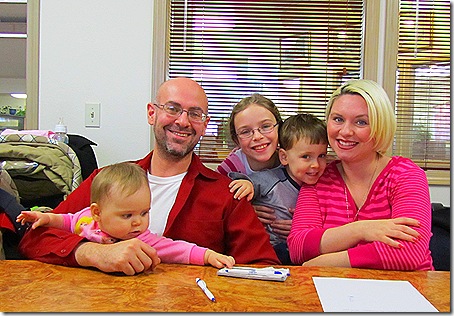 Looking back on our decision, I'm glad we waited and saved the money for the down payment on our own.  These days, it is so tempting to find a way to make a purchase happen since credit is so readily available.  However, that can more often than not end you up in a financial predicament that is much harder to get out of than it was to get into.
Frugal Home Buying: We Saved Cash For Our Down Payment is linked to Frugal Friday – go check it out!