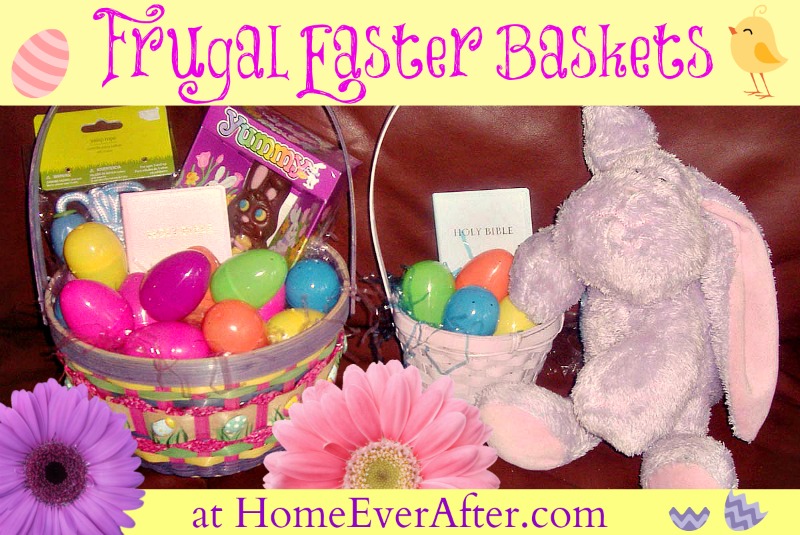 Frugal Easter Baskets
Here is how I made 2 cute frugal Easter baskets for my kids while keeping the costs down (hurray Walmart for the supplies; some of you who have Walgreens and CVS may do better finding your deals there).
The supplies:
· Easter grass x 2 bags = $2.00
· Plastic Easter eggs 48pk =$1.68
· 2 wicker baskets = $0.00
· Jelly beans (in eggs)= $ .50
· Chocolate bunny = $ .94
· Easter jump rope = $1.00
· Mini pastel bibles x2 = $4.94
· Pennies (inside eggs) = $ .14
· Bunny = $0.00
Total cost of supplies for 2 Easter baskets = $11.20. That means each basket cost just $5.60!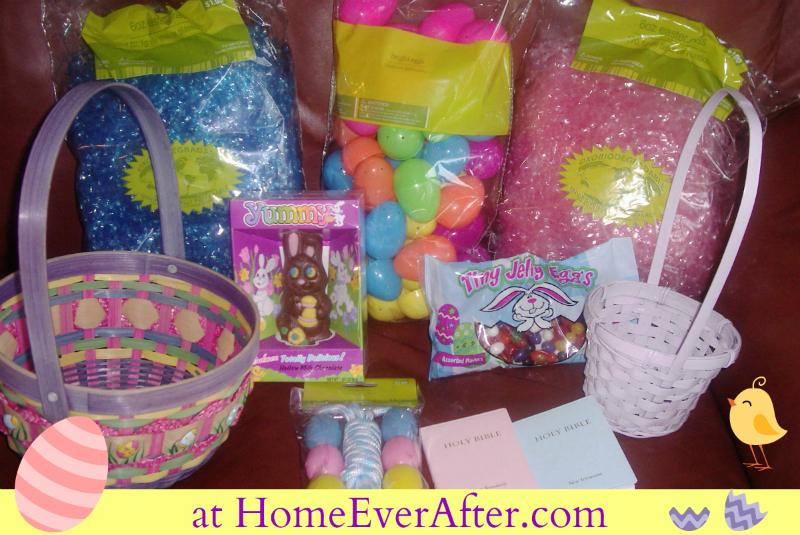 I could have made the baskets for less if I was reusing plastic eggs and Easter grass from last year. Next year, I will have that luxury, knocking an extra $3.68 off the cost! The other big expense for the supplies was the cost of the mini pastel bibles. Hey, they were cute, came in pink and blue, and it's Truett's first Easter! And you can't get something for one child without getting it for both!
The baskets were purchased several years ago and have been reused. The bunny is from Truett's room (he's 6 months old, he won't know the difference!)  Every year we go easy on the candy by filling some of the eggs with pennies. I was delighted to see that other people do this too (see Deborah's post at Simply Thrifty)!
The baskets took 5 minutes to put together, just fill the eggs with stickers, put everything in the basket and you're done! (Truett's eggs are empty; he's only a baby!) No spending $10-$30 per premade Easter basket at the store (yes, I saw them for that much while I was buying the supplies). They're fast, easy and sure to please!
When Easter is over, be sure to pack up the supplies (grass, empty wicker baskets, plastic eggs) into a box and clearly label it "Easter". Reusing these for next year will cut your costs further by keeping you from buying them again and will keep them out of the landfills (which will be littered with Easter grass the day after Easter!).