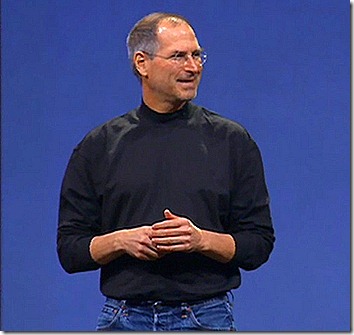 I've never been a mac person; I've always been a loyal pc user.  Tonight, when I heard the news that Steve Jobs had died from his battle with pancreatic cancer (which began in 2004), I cried and ran to my husband to tell him.
I cried and asked my husband to pray.  My husband's prayer mentioned that he always thought heaven looked like an Apple store, all white and pearly and serene. 
Now, today, at age 56, Apple founder Steve Jobs is dead.  Steve changed the world in so many ways that it's hard to know where to even begin.  From personal computers to iPods, iPads, iPhones, he changed the way we think about technology and let it bring us closer together. 
And while I never met Steve Jobs, he changed my life and the world stage so much from his contributions that I can't help but mourn his loss.  Will I have used my life for so much good and life-changing stuff-that-legacy-is-made-out-of that I can look back on my contributions like Steve Jobs can?  I can only aspire to live for the now, doing God's work for what may be my short years, just like Steve.
Goodnight, Steve, and have a good rest.  The Lord said you'll just be sleeping for a while, in that big Apple store in the sky.
Read more about Steve Jobs' life and death here.   If you'd like to express your condolences, email them to rememberingsteve@apple.com.
Photo credit:  Danny Novo