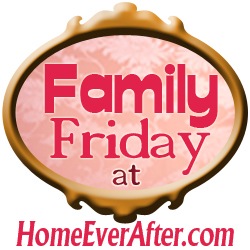 Today I realized the week was almost over and it seemed as if it had just started.  Where does the time go?  If you read earlier in the week that we've started to home school our daughter, you'll know that my mind has been focused on homeschool stuff all week. 
Last week it was financial paperwork for the house we're buying that preoccupied my time.  Next week it will be something else.  The point is, there is always something that will make your time rush by. 
We can either choose to rush forward from one event to the next or to focus on enjoying the moments that make up each day. 
This week I spent more time on family responsibilities than I have in a long time – or maybe it just seems like I did because I was more aware.  I was focused on the time my kids needed me to be there and I was there with them, in body and in mind.
The family time we wish for and crave is not always going to be fun time – playing games, riding bikes, camping out overnight.  Sometimes our family time is supervising homework, feeding a baby, combing hair, or cooking a meal together.  There's no reason we can't enjoy the chores and necessary activities of life as a family instead of looking at them as a drudgery that we must get through in order to make it to the next day. 
Enjoy your family now because you have it now!  Kids grow up, life changes, but one thing remains the same:  you have this moment forever.  Make it count.    
Family Friday: Time to Share!
Now it's time for you to share your Family Friday post with the rest of us!  If you're not sure how it works, read the directions and guidelines for Family Friday here.
Please add your family-related blog post below in the Mr. Linky. Remember, you MUST link your post back to HomeEverAfter.com. (If your link was deleted, email us.)