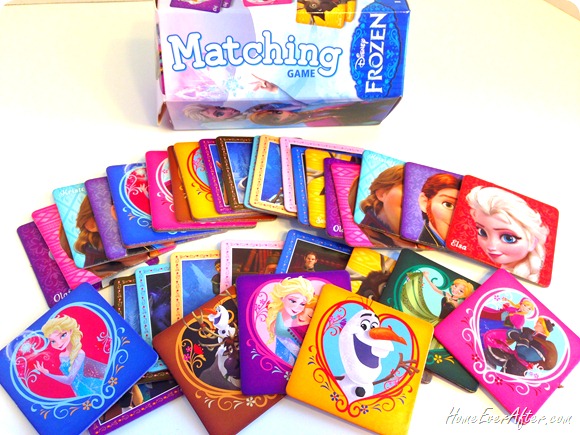 Are you thinking about buying the Disney Frozen Matching game for your kids?  I tried out Disney Frozen Matching with my family and have all the info you need about the game!
Review: Disney Frozen Matching Game
I played the Disney Frozen Matching game with my kids, who are 7, 5 and 4.  The simple memory matching concept never goes out of style, especially when you pair it with their favorite characters. 
Unboxing:  Opening the Frozen Matching tube, I removed the wrapped stack of picture tiles and double-sided 1 page instructions sheet.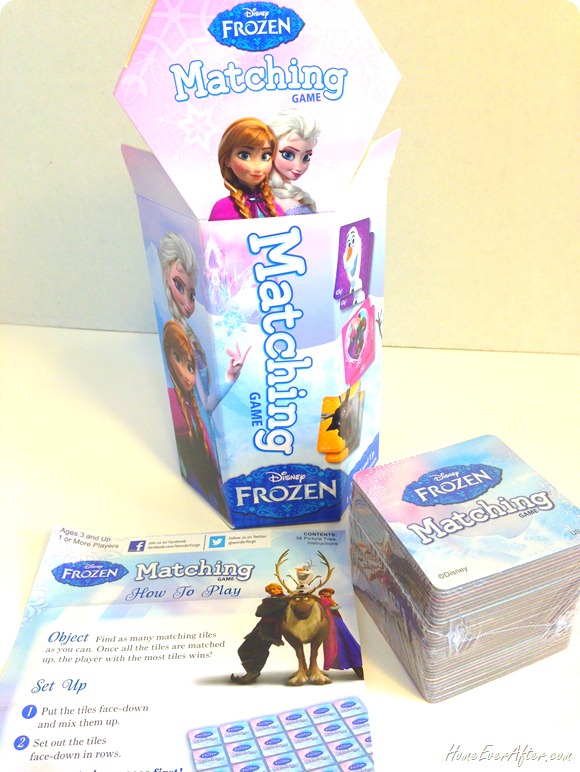 How to Play:  To play Frozen Matching, you mix up the tiles, arrange them face down in a grid, and take turns flipping over 2 tiles per turn.  The goal is to make as many matches as you can.  The player with the most matches wins.  You an read the Frozen Matching directions below.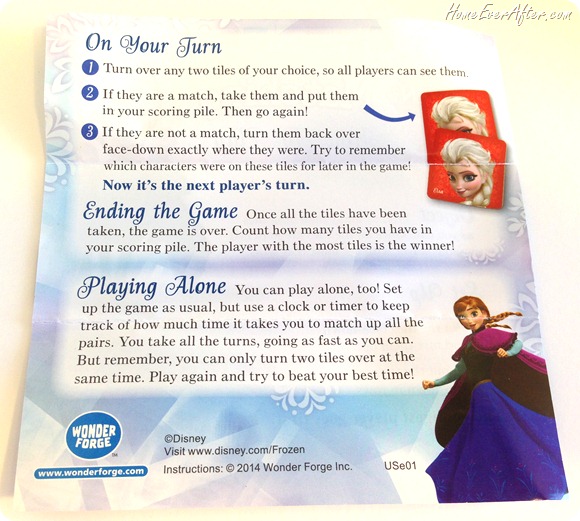 My Family Playing the Disney Frozen Matching Game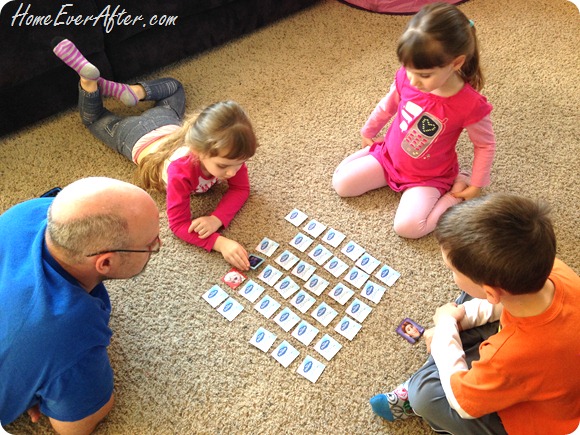 Even Dad got in on the action.  The game is designed for 1 or more players, and it works just as well with 2 people or 6 people.  My kids got to calculate how many rows and columns we needed to make a grid.
From left to right, Seven, Prynne, and Truett had a fun time setting up the game.  The initial game set up took less than 2 minutes.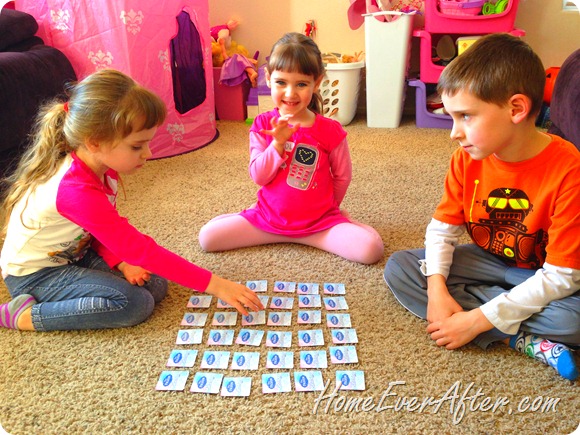 Prynne is only 4, and she's the only one who had a few challenges playing Frozen Matching.  Her biggest challenge was that she wanted to turn over more than 2 tiles each turn because she wanted to make a match every time!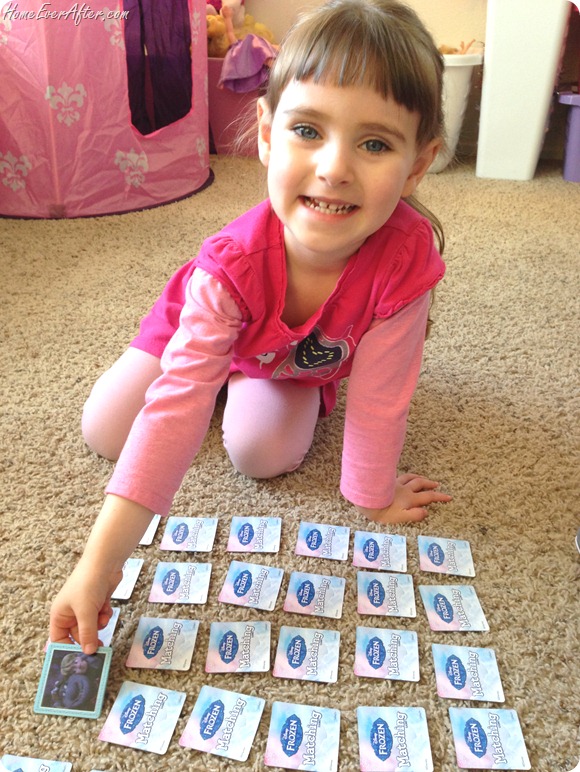 Disney Frozen Matching Game: The Good
Perfect Birthday Present – Size – Price: All 3 of these points go together because this is my new best pick for a kids' birthday party present.  With all the kid birthday parties my son gets invited to, I have to come up with 1-2 birthday presents each month that are good for boys or girls. 
Since all kids love Frozen, this unisex game is perfect.  It's a small box and easy for even my son to wrap in wrapping paper.  Plus, at around $5, it fits into my birthday present budget.  I'll be picking up about 10 more Disney Frozen Matching games to put into my gifts drawer.
Easy to Play:  The matching concept is easy to understand.  It's simple enough for a 3 year old to play but still interesting and fun enough for older kids as well.
Favorite Characters:  This game is all about Frozen!  Who else do we even want to see right now?  No one!
Unisex Game:  Boys and girls alike LOVE Frozen. There is a pretty even mix of the number of girl and boy characters on the picture tiles.  For boys we have Olaf, Hans, Sven, Kristoff, trolls, Weaseltown, the shopkeeper, and more.  For girls, we have Anna, Elsa, and group pictures.  Neither gender will say it's too "boyish" or "girlish". 
Variety:  Each pair of pictures only appears once in the game. There is a lot of variety in the artwork, even featuring some illustrated character artwork in the style of the Disney Frozen children's books that is different from the animation style of the movie.
One Player Option:   If you want to play the Disney Frozen Matching game alone, it's no problem.  With the one player option in the rules, you can time yourself to see how fast you can match up all the tiles on the board.  Then keep a record of your time and try to beat your own fastest time for a new high score!
Disney Frozen Matching Game: The Bad
Package Storage:  Frozen Matching comes in a cardboard box tube that is in the shape of a hexagon.  That makes it pretty hard to close the lid each time for little hands.  The box lid doesn't stay closed well and won't last through many openings and closings.  A better package for storing the game would be a Disney Frozen zipper pouch.  It would still be just as portable but easier to open and close (and more likely to not have pieces get lost). 
Disney Frozen Matching Game: Take It or Leave It
Take It:  I love the Disney Frozen Matching game and will definitely be buying more for my gift giving drawer.  It's a perfectly priced game that kids of both genders and all ages will love!
Where to Buy Disney Frozen Matching
You can find Disney Frozen Matching game for purchase at  Amazon (for about $5) and other stores where board games are sold.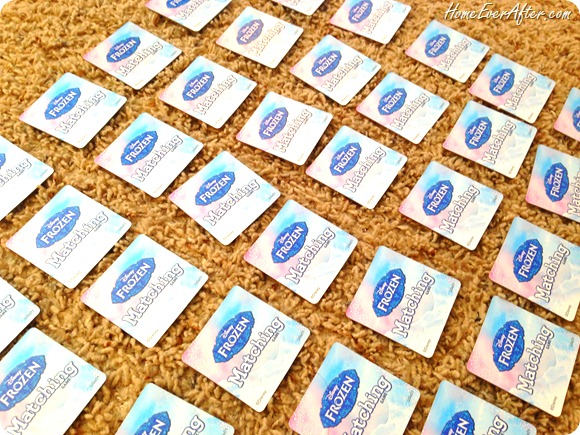 —
FTC Disclaimer:  This article is a product review written by Danelle Ice and is her honest opinion. The game was provided at no cost by Wonder Forge to facilitate the review process. She received no fees for the writing or publication of this article.