This is a Sponsored post written by me on behalf of Walmart. All opinions are 100% mine.

If you're a mom on a budget, figuring in baby formula to your everyday expenses can be frustrating. When my kids were babies, I found that there was a great alternative to the national (expensive) brands of formula: Parent's Choice™ formula from Walmart.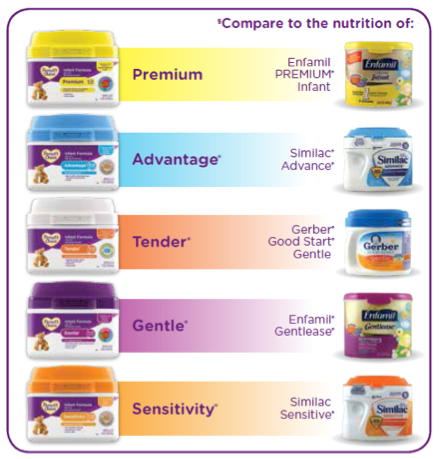 With my first baby, the hospital started us on Enfamil®. I was dismayed at the price when I had to purchase it at the store after that. Later on, I was introduced to Similac® from the WIC program, but when the benefits ran out I had to pay the high prices at the store again. Then I discovered that Parent's Choice™ from Walmart was the same high quality as the other brands but cost much less!
Parent's Choice Formulas are clinically proven to be as well tolerated as the national brands. It's iron fortified, meets the same FDA standards required of all baby formulas, and has DHA and ARA for brain and eye development.
I calculated how much money I would save on my annual budget now if I switched from Similac® Advance® to Parent's Choice™ and you can see the screenshot below. I would save $574.54 a year! That works out to $47.22 each month that I could definitely use for other bills.
Of course, my kids have all grown out of formula now, but if I had another baby I'd be back to Parent's Choice™ again.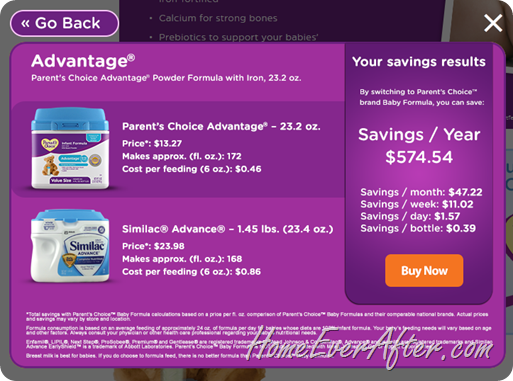 Find out how much money you would save on baby formula if you switched your brand to Parent's Choice™! Click here and then go to the "save money on formula" area at the bottom.
Remember that formula (like everything for your baby) is a personal choice and one that you take seriously as a mom. Choose the one that's right for you. I love all the changes they've made to the formula packages since I had my kids, such as scoop holders inside the lid to keep the scoop from getting lost in the formula. I always hated that, especially at 3am feedings when I was exhausted!
Have you tried Parent's Choice™ formula? Let us know your experience in the comments below!