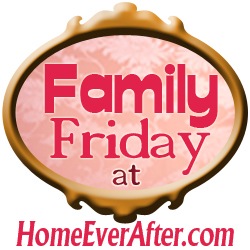 What's your best advice for happy family life?  This week it's your turn to share with us and link up your best family-related posts that will help others to put family first.  I can't wait to see what you put up!
Family Friday: Time to Share!
Now it's time for you to share your Family Friday post with the rest of us!  If you're not sure how it works, read the directions and guidelines for Family Friday here.
Please add your family-related blog post below in the Mr. Linky. Remember, you MUST link your post back to HomeEverAfter.com. (If your link was deleted, email us.)