Tomorrow is the pre-op appointment for my 2 1/2 year old Truett's tongue tie surgery on Monday.  He's so excited about the surgery that he can't wait! 
He's having his tongue fixed so that he can eat, swallow, and speak properly.  The tip of Truett's tongue is attached to the bottom of his mouth, better known as a tongue tie.  Click to find out what a tongue tie is.
It's a minor surgery, as far as surgeries go, but he still has to go under with general anesthesia.  He's never had any kind of medical problem other than this, but he'll pull through this one with no problems, I'm sure. 
I started getting him excited about surgery about a week ago.  I made him a surgery countdown and we hung it on the refrigerator. 
Truett gets to change the number of days every morning and he got to pick out and put on all the stickers.  The extra days' number cards are hidden in a pocket on the right.
This is what his surgery countdown craft project looks like: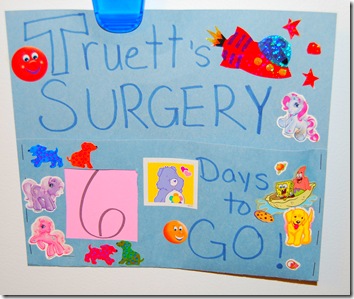 It took me about 5 minutes to make the surgery countdown out of construction paper, and 5 more for Truett to decorate it with stickers.  It has been a great tool for getting him excited about going in for surgery; he doesn't even know that he could be feeling afraid about it!