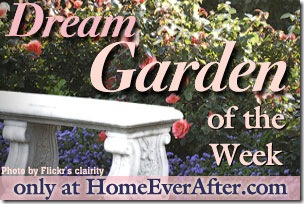 Everyone loves the look of a beautiful garden, but we don't all have the time or resources to create the garden we may want.  That's why we bring you the most gorgeous pictures each week of dream gardens at Home Ever After!
I know it's almost fall with back to school just around the corner, but let's enjoy the summer garden photos while we can, and then we'll switch over to scenes of Autumn.
Dream Garden of the Week
Photo by Osbornb.  This backyard oasis belongs to the photographer's neighbor.  What a beautiful view off of your back porch!
View other breathtaking Dream Gardens here or learn about gardening here. Get more Wordless Wednesday at WordlessWednesday.com and 5 Minutes 4 Mom.