Check out our Beginner's Guide for a tour of Home Ever After.
Don't Look Like a Tired Mom!
Of course you're tired – running a household with children is tiring work!  We've all seen tired moms dropping off their kids at school in morning, desperately clutching a cup of coffee as if it's their last bastion of hope… And we can all probably admit that we have been that tired mom on one occasion or another!
Being a mom often means we sacrifice a lot of things (sleep being one of them) just to get it all done, and while we know we need to take more time for ourselves, we also know that sometimes morning is still going to come a little too early.  Just because you are tired doesn't mean you have to look tired. Here are 13 surefire ways to wake up your look when your energy levels are less than full.
13 Quick Mom Makeovers to Take You from Tired to Terrific!
1.  Drink more water. Hydrating your body is a sure fire way to look and feel better almost instantly.  Another great way to use water for a quick pick-me-up is to fill a spray bottle with water, turn the dial to "mist", and give your face a quick spritz of water.
2.  Moisturize. Short on time in the morning?  Never skip applying a facial moisturizer with sunscreen.  The moisture in your skin will instantly make you look more awake (and protect your skin at the same time).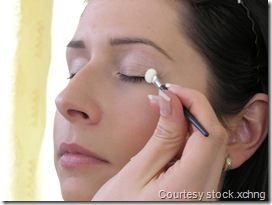 3.  Brighten. Use a light colored shimmery eyeshadow or cream to brighten eyes.  We're talking white, ivory, or light beige.  Light eyeshadows instantly brighten up the face, making you look more alert.
4.  Concealer. Dark under eye circles are a tell-tale sign of not getting your Zs.   Nothing hides circles like a good under eye concealer, which takes only 30 seconds of your busy morning to apply.
5.  Do not wear pajamas out of the house! There is no more effective way to look like you're still sleeping than to actually wear your pajamas in public!  Please, please, please: take the extra 2 minutes and throw on a shirt and pants.
6.  Add white shimmer under arches. You can perform this great trick on the go – even sitting in traffic.  Dab a shimmery white lip gloss under the arches of your eyebrows and rub in.  The bright color beneath the arch instantly draws the eye upward, causing onlookers to focus on the line of your eyebrow, not the tired eyes below.
7.  Wear lipstick. A powerful punch of color can wake up a tired face when you don't have a lot of time to get ready.  Stick with a neutral color that's not too dark, slick on one coat and you're good to go.  Instead of touching up lipstick throughout the day, keep a chapstick handy to keep lips moisturized and shiny. (Wearing bold lipstick and large sunglasses, no one will know you're not a celebrity mom today!)
8.  Wear clothes that fit. Clothing that fits and flatters your figure will make you look more put together instead of looking like you just rolled out of bed.  Ditch the baggy tees and sweat pants.  It takes just as long to put on a top and pants that fit your body and look great as it does to put on shapeless lounge wear!
9.  Exfoliate. Use a facial scrub before bed to save time in the morning.  Slough away those dead, dull skin cells to reveal fresh rejuvenated skin.
10.  Self tanner. Self tanning moisturizers are a convenient way to give your skin a little pick me up.  A healthy tan gives you a rested look and can hide dark circles when you haven't gotten enough sleep.  Try applying a self-tanning moisturizer before bed for a hint of tan by morning.
11.  Put on earrings. Small details get left out when time is limited, and therefore are a surefire way to look more awake and put together.  Large hoops will draw the eyes away from sleepy features, while small diamonds or other gems will add sparkle to your face.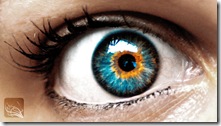 12.  Eye drops. Visine or other eye drops can help to eliminate eye redness caused from sleep deprivation.  Lack of sleep can cause the blood vessels in your eyes to pump more blood than usual, making them larger and the whites of your eyes seem red and "bloodshot". The tetrahydrozoline HCl found in eye drops is a vasoconstrictor, meaning that it shrinks these blood vessels, giving you back your normal white eyes.  Keep eye drops in the refrigerator for a cool pick-me-up.
13.  Cold water rinse. If all else fails, quickly rinse your face with very cold water.  The cold temperature causes the pores to constrict, delivering the appearance of smoother skin and an instantly awake face.
If you liked this article, please consider subscribing to Home Ever After for free to get the latest tips.
Eye photo by Flickr's darkpatator.