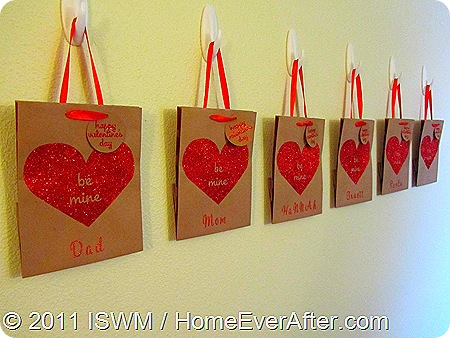 Holiday craft projects don't have to look like kids' stuff!  Our fantastic Valentine gift bag mail boxes (pictured above) are a perfect fit for your home décor.  This row of Valentine card holders has been hung on the living room wall with 3M command hooks.  They are ready for your family to put their Valentine's Day cards, candies, and treats in for a fun holiday exchange.
When Valentine's Day comes, just take the bags down and pass them to the appropriate person so they can open their loot!
Here's how we made them.
DIY Craft Project: Easy Valentine Gift Bag Mail Boxes
I purchased 6 Valentine's Day gift bags at the craft store.  Yes, these are meant for gift giving, but can be used for so much more!
Make sure to pull the back handle up, so the bag can hang by it.  Next, pull the front handle to the inside, so it lays flat (as shown at left).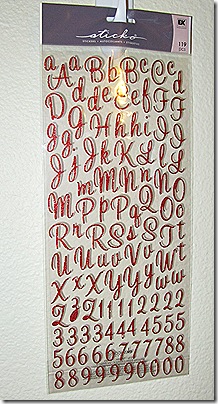 Next, you'll need decorative letters.  If you're great at calligraphy, you can write your script by hand onto the bags.
However, if you need a little help in the lettering department, there are two options.  Either buy scrapbooking stickers like I did (pictured at left) or buy a stencil of a script font and red glitter glue pens.
To write the names on the bags, center your name in the middle of the bag.  Do the middle letter(s) first, then work outwards to either side.
This will ensure you get the names placed evenly in the middle of the bag.
At left, you can see one finished bag.  It has been hung on the wall with a 3M command hook, which are perfect for holiday decorations since they are removable and won't damage walls.
Finally, here is the finished product: a whole row of Valentine Gift Bag Mail Boxes for my family.
You can not only enjoy them as holiday décor until Valentine's Day, but also slip in cards, stickers, candy treats and even roses on the big day!
We originally published Valentine Gift Bag Mail Boxes on February 8, 2011.  It is linked to Works for Me Wednesday and 11th Heaven.  Disclaimer:  This post contains affiliate links and readers may assume that HomeEverAfter.com receives compensation when my referral links are used.