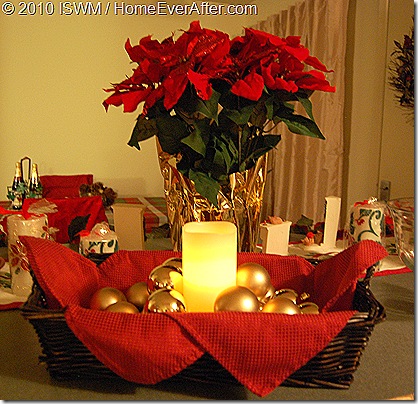 If you've been reading our 12 Days of Christmas Home Décor, then you already know how many options you have for Christmas decorating from just a few key pieces.  Our DIY Christmas centerpieces are no different; you can make your own stunning centerpieces for your holiday tablescapes with just a few inexpensive "ingredients".  Here we've given you step by step instructions for how to make the Serving Basket Centerpiece.
How to Make the Serving Basket Centerpiece
Supplies:
1 wicker basket with handles
2 cloth napkins
1 box of Christmas ornaments
1 pillar candle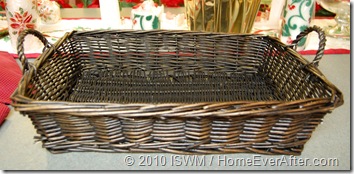 1.  Start with a rectangular wicker basket with handles on the sides.  The basket should be farely shallow, since you're trying to recreate the look of a serving tray with wicker.  These baskets are available at craft stores and are frequently on sale.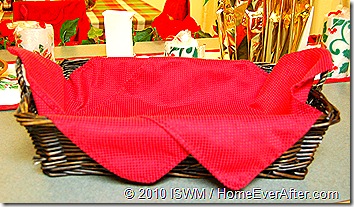 2.  Lay the first cloth napkins into one half of the basket with the points up, down, and hanging over the handle.  Do the same with the second napkin on the other side of the basket.  Depending on the size of your basket, the napkins may or may not overlap each other in the middle.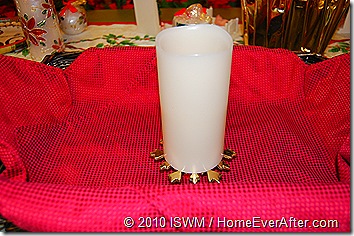 3.  Place a pillar candle in the middle of the basket.  If it's too short, use a candle holder to lift it up a little.  it doesn't matter if the candle holder doesn't match the colors of your centerpiece because it will be completely covered up.  In the photo, we've used a candle holder for a tea light (the pillar is just sitting on top of it).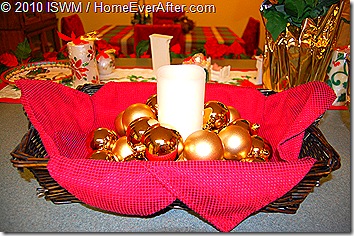 4.  Next, add Christmas ornaments.  Once you have all the ornaments you'd like to use in the basket, it's time to start sculpting.  Try stacking the ornaments up around the candle for a nice sloping effect.  If you use two different sizes of ornaments, try putting the smaller ornaments on the top layers of the stack around the candle.
5.  When finished, light the candle in your centerpiece and prepare to be amazed at how great it looks from just a few simple steps!  Your Serving Basket Centerpiece will look something like ours: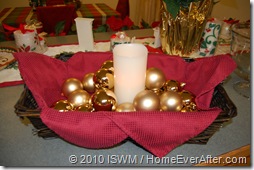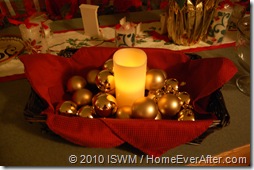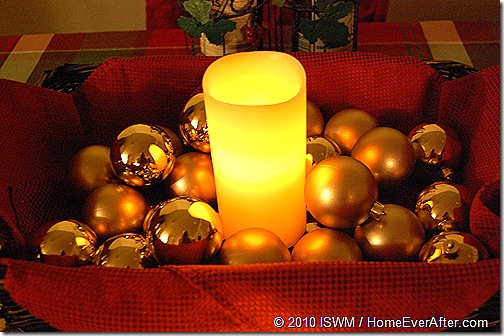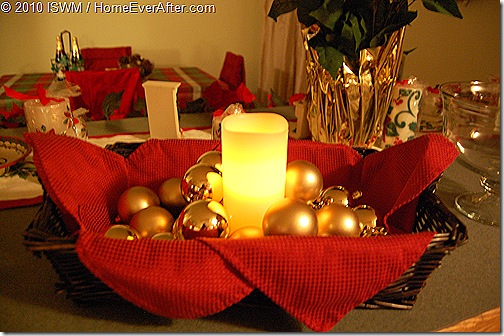 Read more of our holiday articles before you go.  Plus, check out our Winter Eye Candy here.  12 Days of Serving Basket Centerpiece is linked to Works for Me Wednesday and 11th Heaven.