Review: Disney Princess Enchanted Cupcake Party Game
Are you thinking about buying the Disney Princess Enchanted Cupcake Party game for your girls this Christmas?  I tried out the game with my daughters, Seven and Prynne, to see if the Enchanted Cupcake Party game would make a good Christmas present for young girls who love everything Disney Princess!
I played the Disney Princess Enchanted Cupcake Party game with my girls, who are almost about to turn 2 years old and 3 years old.  Here is my video that shows the game, the pieces, and us playing the Disney Princess Enchanted Cupcake Party game together as a family.  (If you can't see the video below, click here to watch it.)
My Family Playing the Disney Princess Enchanted Cupcake Party Game
The holidays are coming up and that means tons of new kids' games to choose from as Christmas presents. Let's face it: some games are just not worth the money. This might be because they're too complicated, too boring, or your kids just don't like them. This is why you want to see if real kids really like to play a game before you buy it as a present!
I tried Disney Enchanted Cupcake Party so that you know its good points and bad points before you buy it for a holiday present.  Here is my product review of the game as a gift-giver, mom, princess, and player!
Enchanted Cupcake Party Game: The Good
Easy to Play:  The Disney Princess Enchanted Cupcake Party game is simple enough that kids of really young ages can understand the directions and how to play the game, but still interesting and fun enough that bigger girls will like it too. 
Gorgeous Cupcakes:  The intricate designs on the cupcake pieces in Princess Enchanted Cupcake Party make it really fun.  Even for me as mom, I had a good time looking at all the patterns, designs, and colors of the mini cupcakes.  I love cupcake decorating, and I know they're not real cupcakes but they're still just as fun to look at! 
Fun Pieces:  My girls loved the cupcakes and probably would play with the cupcake pieces when we aren't playing Disney Enchanted Cupcake Party if I'd let them.  While we were setting up the game they kept wanting to play with the cupcakes, take them apart, put them together, and switch around the designs.
Work Together:  I love that the Disney Princess Enchanted Cupcake Party game is a cooperative game in which you work together as a team to win the game.  There is no winner, no loser, and it's a lot more fun to play with younger girls when you can be helping each other as part of the normal game play.
More Challenging Option:  There are 3 sets of recipe cards so that Enchanted Cupcake Party can be made more difficult if you find your girls have memorized the combinations on the first set of recipe cards.  They can choose from 3 different sets that add variety to the game.
Fine for any Number of Players:  If your daughters like to have friends over, they'll still be able to play Enchanted Cupcake Party no matter if they have 2 friends or 5 friends over.  Since it is a team game, it doesn't matter how many players there are.
Great for Slumber Parties:  There is so much room to build on and expand the Disney Princess Enchanted Cupcake Party game because of the Disney Princess theme.  You can easily bring out a trunk of princess dress up clothes (dresses, petticoats, tiaras, toy high heels, etc.) so that the girls can dress up and be in character while they play!
You could also add on a costume contest, asking the girls to come to the sleepover in their prettiest princess costume and have a special prize for the winner. 
Add on real delicious mini cupcakes for dessert after the game is over and the girls will be raving about this slumber party at school the next week!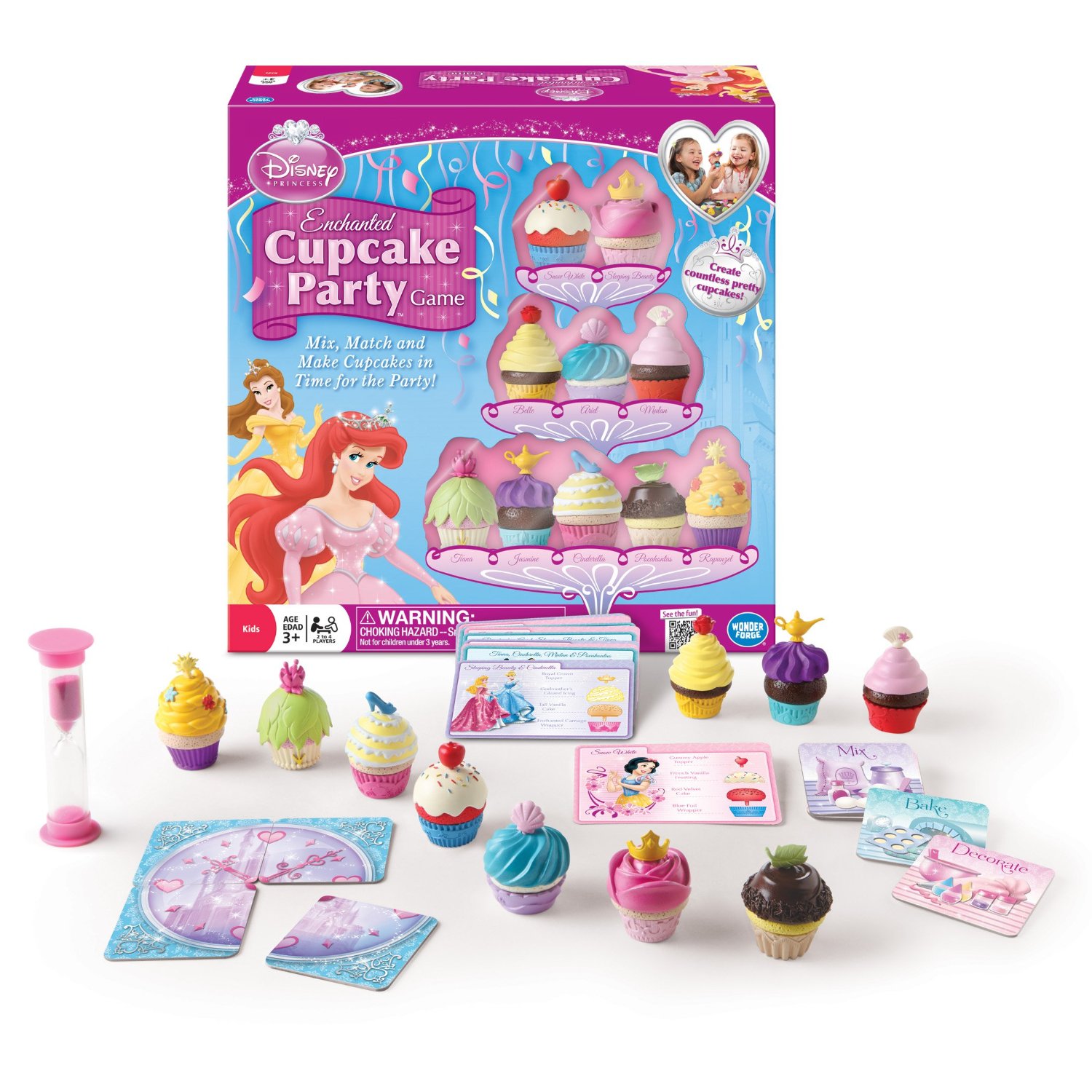 Enchanted Cupcake Party Game: The Bad
Too Small:  The cupcakes in the Disney Princess Enchanted Cupcake Party game have a lot of really small rubbery pieces that are choking hazards for babies and toddlers.  This is unfortunate, because my girls are the right age to love this game but the wrong age to play it by themselves.  Even with close supervision, I'd still be worried about a child mouthing the pieces and having a fast accident before a parent could get the piece out of their mouth.
I love the tiny size of the cupcakes because they're adorable in the mini size, but wish they would have made the whole cupcake and its component pieces larger so that it was safe for younger children.  
Enchanted Cupcake Party Game: Take It or Leave It
Take It:  I would most definitely buy Disney Princess Enchanted Cupcake Party for my daughters as a Christmas present!  Not only do they love it, but it's easy to play, reasonably priced, great for groups of any number of players, and has a work-together strategy instead of a competitive one.
Disney Princess Enchanted Cupcake Party gets the Home Ever After stamp of approval!
Where to Buy Disney Princess Enchanted Cupcake Party Game
You can find Disney Princess Enchanted Cupcake Party game for purchase at Target, Amazon (for $16.99) , and other stores where board games are sold.
—
Disclaimer:  In compliance with the FTC Guides,  this article has material connections.  IS World Media (ISWM) received no fees for the writing or publication of this article.  This article is a product review written by Danelle Ice and is her honest opinion.  The game was provided to ISWM at no cost by Wonder Forge to facilitate the review process.