Review: Disney Princess Dazzling Princess Game
If you've seen the Disney Princess Dazzling Princess game on store shelves and think it might make a good Christmas present this holiday season, watch the video above for my Dazzling Princess game review.  (If you can't see the video above, click here to watch it.)
Below is a picture of the Disney Dazzling Princess game and all of the game pieces included (4 tiaras in purple, pink, blue, and gold, 4 bracelets, and 4 rings, plus playing cards and gems to fill up the jewelry).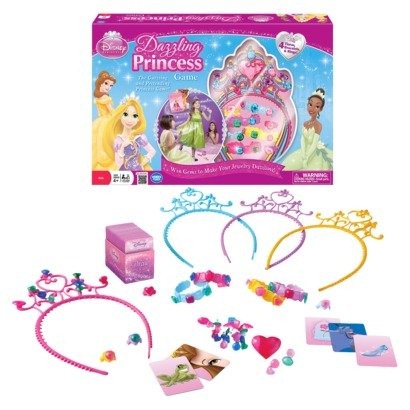 The Disney princess dress-up dresses are pictured on the game box cover, but please note that they are not included in the game. If you want to have the dress up costumes for your girls to use with the game, you'll need to buy them separately.  Most toy departments have the Disney Princess dress up costumes for sale.
Dazzling Princess Game: The Good
Fun Acting Out: The Dazzling Princess game has secret princess cards mixed in with the regular game play cards.  If you draw one, you act out who the princess is and try to get the other players to guess which princess you are!  Everything is allowed (singing, telling stories about the character, acting like her, etc.) to get the others to guess your princess.
Mystery:  Each card in the Disney Dazzling Princess game has to be "decoded" with a secret decoder heart gem, which each player gets at the beginning of the game.  You slide the heart over the card and a picture shows up through the gem! 
Dress Up:  Even if you choose not to put on princess dresses before you play, you and your girls will get to dress up during the Disney Princess Dazzling Princess game with the included rings, bracelets and tiaras.
Wear-Later Accessories:  Nothing says this game has to stay boxed up when you're not playing!  I'm sure your girls will want to wear the jewelry and headbands as regular accessories and even dress up goodies all the time.
Dazzling Princess Game: The Bad
Choking Hazards: The Dazzling Princess game is designed for ages 4 and up because of the very small gem pieces.  Unfortunately, this means the game contains so many choking hazards as part of the regular game play that younger toddlers won't be able to play the game safely.
Only 4 Players:  Since there are only 4 of each type of jewelry, you can't really have more than 4 girls playing Disney Dazzling Princess at a time.  Since no one wants to be left out, that probably means this game will not be one you can use for slumber parties.
Dazzling Princess Game: Take It or Leave It
Take It: I loved the Disney Princess Dazzling Princess game.  It's fun and lets the kids be creative with acting and pretending.  They get to be pretty and girly and imitate their favorite princesses.  The headband tiaras are so clever and the decoder gems and secret mystery cards are intriguing at any age.  The Disney Princess Dazzling Princess game gets  the Home Ever After stamp of approval!
Where to Buy Dazzling Princess Game
You can find Disney Princess Dazzling Princess game for purchase at  Amazon (for $28.79)  and other stores where board games are sold.
—
Disclaimer: In compliance with the FTC Guides, this article has material connections. IS World Media (ISWM) received no fees for the writing or publication of this article. This article is a product review written by Danelle Ice and is her honest opinion. The game was provided to ISWM at no cost by Wonder Forge to facilitate the review process.