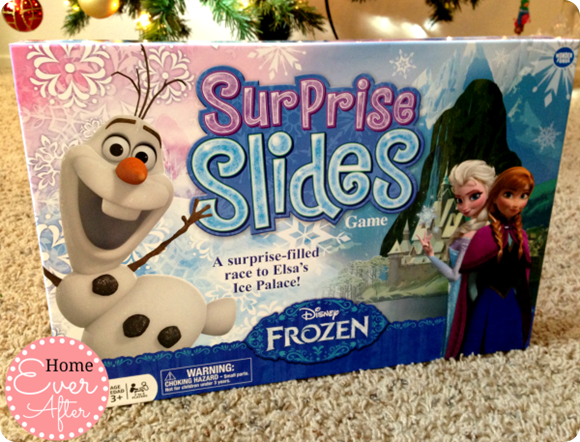 Everyone loves Disney's Frozen characters, and who better to bring a new board game to life in time for the holidays?   The Disney Frozen Surprise Slides game is one of the biggest new hits in my house right now, and I'll tell you why.  We played this fun twist on a Candyland-like adventure over and over.  It's a perfect Christmas gift for young kids and big kids alike.  Buy the Disney Frozen Surprise Slides game at Amazon.
Review: Disney Frozen Surprise Slides Game
Disney's Frozen Surprise Slides game is designed for preschool and older kids aged 3 years old and up.  This board game is designed to be a start-to-finish color adventure with shortcut slides that either move you closer to the end or back towards the beginning.  Each turn, a player spins the color spinner and moves his or her game piece to the next color space on the board.
Disney Frozen Surprise Slides Game: The Good
Spinner for Easy Play:  Surprise Slides features a color spinner instead of a card stack.  This is a much better game play option for playing with little kids who have a hard time reaching across the board to turn over a card for each turn.  The spinner can be easily passed around the board from player to player. 
New Hot Disney Characters:  This game features four of Disney's hottest new stars from the hit movie, Frozen: Anna, Elsa, Olaf, and Kristoff.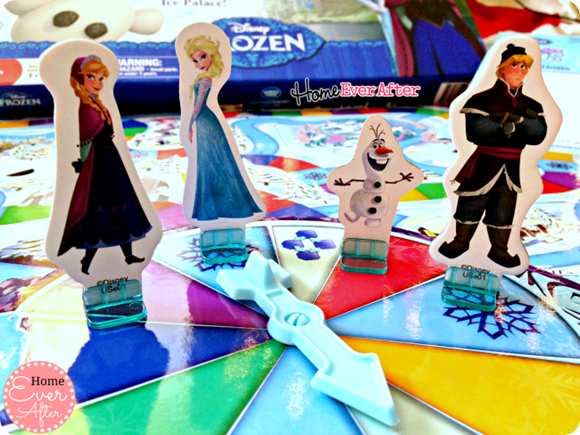 Set Up:  Setting up Surprise Slides is fast and easy.  The setup time for our initial play took less than 1 minute.
Easy Instructions and Game Play:  The game is easy to understand and play, even for my 3 and 4 year old daughters.  The rules are not complicated and the game play is straightforward.
Back Slides are Generous:  If you do get stuck with a backward slide, it doesn't take you very far back.  It's just a temporary setback, not returning to the beginning of the game.
Disney Frozen Surprise Slides Game: The Bad
4 Player Max:  There are only 4 game pieces, so no more than 4 people can play the game at a time.  This can be modified to add more players by using small toy characters as additional movers on the board.
Poor Board Design Breaking Already:  Due to a poor game board design, the moving game board tiles fit too tightly into the board.  Because of this, the printed side of the board on the tiles was already peeling off of the tiles the first time we played.  Taping them together will make it impossible for the tiles to fit back in place, so it looks like I'll be gluing the tiles back together so my kids can keep playing Surprise Slides.
Tiles Knock Over Pieces:  When a player spins a "switch tiles" or "flip tiles" move, the tiles have to come out of the board.  Removing them and putting them back into the board knocks over all the player pieces, losing everyone's places.
Tiles are Oddly Shaped and Hard for Little Hands:  The tiles have 2 short sides and 2 long sides and only fit into the board in 1 exact way.  My girls could not get the tiles to fit back in the game and had to be helped every time.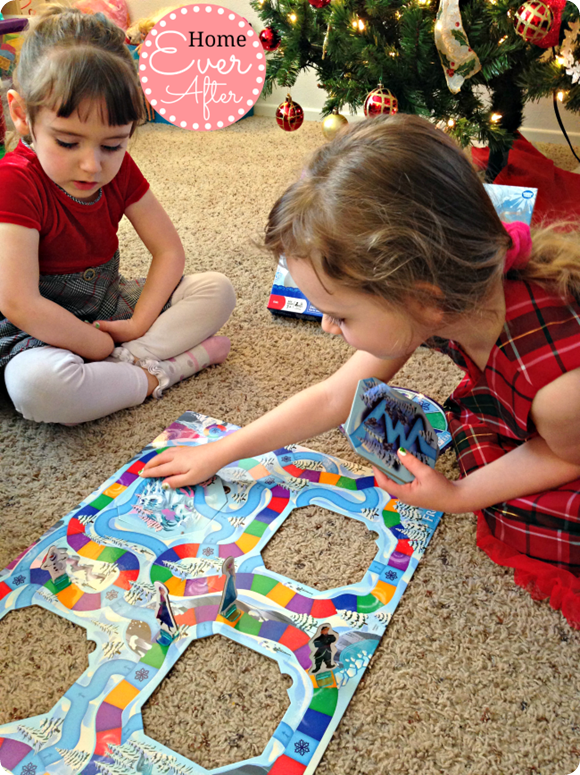 Disney Frozen Surprise Slides Game: Take It or Leave It
Take It:  The Disney Frozen Surprise Slides game is much more interesting than other color adventure board games and adds variety with the switches and flips.  Besides the obvious board design issues, the game play makes Surprise Slides one of the more fun kids' games I've seen come out in the last 5 years.  Add their new Frozen best friends to the deal and Surprise Slides is an obvious hit!
I'm hopeful that the next revision of the game will address the tile issues so that the game stays together for long-term play. 
Where to Buy Disney Frozen Surprise Slides Game
Buy the Disney Frozen Surprise Slides game at Amazon.  You can also find Disney Frozen Surprise Slides game for purchase at a store near you that sells family board games.
—
Disclaimer:   This post contains affiliate links and readers may assume that HomeEverAfter.com receives compensation when my referral links are used. IS World Media (ISWM) received no fees for the writing or publication of this article.  This article is a product review written by Danelle Ice and is her honest opinion.  The game was provided to ISWM at no cost by Wonder Forge to facilitate the review process.