I was able to review the new Dinosaur Train items available this Christmas with my daughters and they had a wonderful time!  Watch my video above to see the new jammies, slippers, and to get a sneak peek at the new Christmas book "A Holiday with Buddy".  If you can't see the video above, click here to watch it:
Dinosaur Train Christmas – Pajamas and A Holiday with Buddy Review
.
You can see my girls in the picture below modeling the new 3-piece pajama set from Dinosaur Train.  What's that?  You didn't know the Dinosaur Train television show was for girls too?  It most certainly is!
Seven and Prynne split the 3-piece PJs: Seven (left) is wearing the Dinosaur Train shirt, PJ pants, and slippers, and Prynne (right) is wearing the PJ shorts and her own onesie.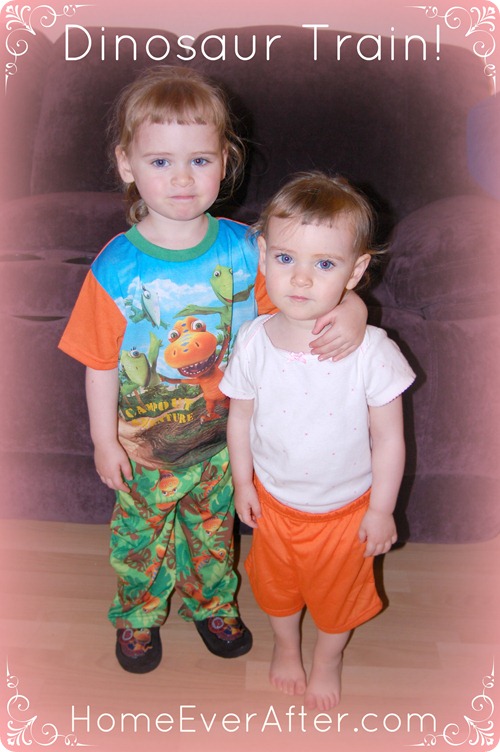 Jim Henson's Dinosaur Train is a cartoon that airs on PBS featuring likable dino characters (Buddy, Don, Shiny, and Tiny) that your little ones will fall in love with.  Then, of course, they will want to read the Dinosaur Train books, wear the Dinosaur Train slippers and pajamas, and basically be close to their prehistoric friends at every available opportunity.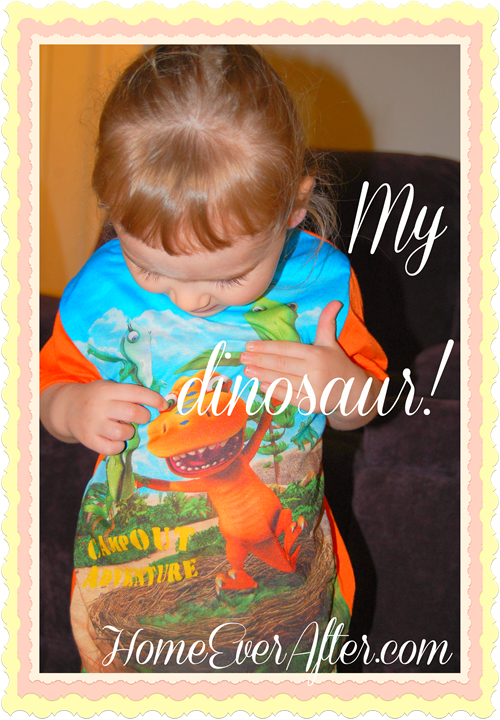 See Seven showing off Buddy on her jammies shirt?  We opened the package that had the 3-piece Dinosaur Train Buddy & Pteranodon friends pajamas inside and she couldn't wait to wear it!  The vibrant orange and green colors combined with her TV friends have skyrocketed this PJs set to instant favorite status.
The moccasin slippers are covered in none-other-than Buddy the T-Rex and have non-slip bottoms for those of us with  tile or hardwood floors.  We don't want our little dinos slipping and falling as they run around the house roaring!
BUY IT:  Dinosaur Train slippers at Amazon.com for about $12.99.
The 3-piece Dinosaur train pajamas set is available at webundies.com.  The set that I received had a $36 price tag on it.
The fabric is super soft and comfortable (100% polyester) and felt great before I even washed the pajamas.  Choose from sizes 2T – 4T.  Here is a picture of all of the Dinosaur Train holiday items I received on my purple couch before my children claimed them!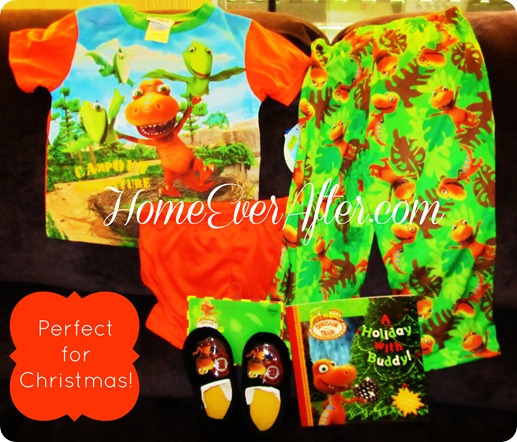 The new Christmas book "A Holiday with Buddy" by Penguin Young Readers Group is a fun paperback to get your little ones ready for Christmas!  I always want to give these items early and have a hard time hiding something like the Christmas book away in the presents stash to wait until Santa comes!
BUY IT: A Holiday with Buddy book for $3.99
The paperback is definitely meant to be read to your kids by Mom or Dad as it has some great vocabulary (and, if they watch the Dinosaur Train cartoon on PBS, they're already familiar with all the prehistoric vocab).
Children will love looking at the pictures all by themselves as well.  The book is 32 pages long and sized just right for little hands.  If you haven't already, watch my video at the top of this post to see my husband reading some of "A Holiday with Buddy" to our daughters, aged almost 2 and almost 3 years old.
The theme of the story is finding the perfect Christmas tree to decorate, which applies whether you're in a dinosaur family or a human family!
If you can't wait for your kids to be able to unwrap these goodies on Christmas morning, you can take your children to the Dinosaur Train website right now.  On it you'll be able to check out all the fun learning activities for kids and tools for parents as well.
Lucky for them, your kids will also be able to watch brand new episodes of Dinosaur Train on PBS Kids TV stations.  They are starting up the week of December 10th, so mark your calendar!
Merry Christmas from Home Ever After, The Jim Henson Company, and Dinosaur Train!
---
DISCLAIMER: This video has material connections. Danelle Ice received no fees for the publication of this post or the videos contained within. The Jim Henson Company provided Danelle with Dinosaur Train products at no cost to facilitate the review process. Only Danelle's honest opinions are given. This post contains affiliate links and readers may assume that HomeEverAfter.com receives compensation when  referral links are used.  Background music provided by Kimiko Ishizaka. "Variatio 28 a 2 Clav." (composer J.S. Bach) is licensed under a CC0 1.0 Universal License.