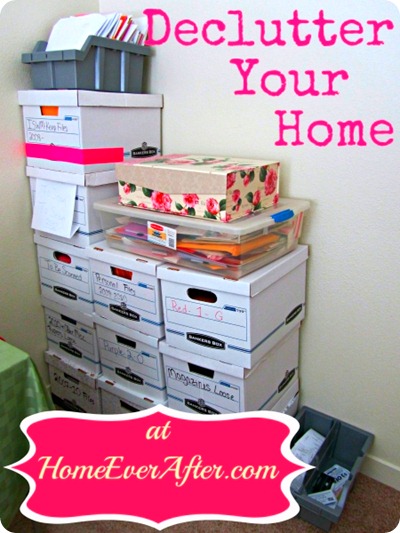 Welcome to the Declutter Your Home guide, where we show you step by step directions to declutter each and every area of your house!  I specially crafted this very thorough decluttering guide to teach you how to simplify your life by getting rid of all the extra stuff you really don't need.

---
Declutter Your Home
Why is Decluttering Important?
The Psychology Behind Decluttering: Breaking the Connection with Possessions
Quiz: Do You Have a Clutter Problem?
How to Declutter Your Home

The Fundamentals of Decluttering
How to Prepare for a Big Declutter
Make the Decluttering Rules You'll Work By
How to Set Up an Initial Declutter Calendar
Supplies Needed to Declutter Your Home

Decluttering the Kitchen

Declutter the Cups, Mugs, and Glasses
Declutter the Kitchen Gadgets
Declutter the Pots and Pans
Declutter the Kitchen Appliances
Declutter the Silverware and Utensils
Declutter the Vases
Declutter the Tupperware and Storage Containers
Declutter the Lunch Boxes

Declutter the Bathroom

Declutter Health and Beauty Items
Declutter Your Makeup
Declutter Your Hair Supplies

Declutter the Towels and Washcloths
Declutter the Linens and Linen Closet
Declutter the Master Bedroom
Declutter the Spare Room
Declutter the Crafting Room and Sewing Room
Declutter Your Homeschool Materials
Declutter the Laundry Room
Declutter with Kids

Declutter the Kids' Bedrooms
Declutter the Kids' Toys
Declutter Kids' Artwork and School Papers
Declutter the Baby Gear
Declutter Pregnancy Bellycasts

Declutter Your Closet: Why is it So Hard to Let Go of Clothes?

Declutter Your Socks and Undergarments
Declutter Your Gym Clothes
Declutter Your Shoes
Declutter Your Summer Clothes
Declutter Your Winter Clothes

Declutter Your Movies, DVDs, and CDs
Declutter the Home Office
Declutter the Paper by Going Paperless

Declutter Magazines
Declutter Your Books

Declutter Your Photos
Decluttering Keepsakes and Memorabilia
Declutter the Garage
Declutter Rarely Used Items

Declutter the Shed
Declutter the Attic
Declutter the Basement
Declutter the First Aid Kit
Declutter Emergency Preparedness Supplies
Declutter the Pantry Stockpile

Declutter Seasonal Items

Declutter Camping and Fishing Gear
Declutter Beach Supplies and Water Toys
Declutter Winter Gear
Declutter Christmas Decorations and Ornaments

Maintaining a Decluttered House
Decluttering to the Extreme: The Minimalist Lifestyle
Do you ever feel like you are drowning in your own house? Maybe you feel like the things you own really own you and take up all your time.  It's no secret that the more material possessions you own, the more complicated things get.  The more stuff you have, the more time you have to spend on your stuff: losing things, finding things, cleaning things, organizing things… you get the picture!
Whether you're just a little overwhelmed with your cluttered house or are in a full-blown hoarder situation, our complete Declutter Your Home guide will help you immediately.
Decluttering your home is one of the most deliberate things you can do to start creating a peaceful retreat from the chaos of our fast-paced world.  After all, you shouldn't feel stress when you come home at the end of the day!  Home should be the most relaxing and stress-free place you spend time.
Unfortunately, a house which is overrun with collections, boxes, trash, items that don't belong anywhere, etc., you tend to feel overwhelmed.
Do you have collections which no one can enjoy or even see because they are stored away in boxes?  Do you have so many clothes that they don't fit in your closet and dresser anymore?  Do your kids have so many toys that they now have them stored in other people's rooms?
Do you have kitchen counters overrun with stuff and there is no longer room to prepare or cook meals?  Do you ever have to go buy things that you know you already own but just can't find?  If any of these situations sounds like yours, we can help!  Our decluttering directions help address these very problems so that you can start feeling more in control of your home again.
Declutter Your Home with Home Ever After!
Are you making a commitment to declutter your home with us?  Our Declutter Your Home guide is a completely free course that you can read and work on at your own pace.  I know that everyone has a different situation, and your clutter problem may be of a completely different level than your neighbor or your best friend.
Some people tend to have "hoarding" or "collecting" personalities.  Unfortunately, for those of us with clutter collecting built-in to our traits, we have to work a little harder at decluttering and setting up good home systems to stop the clutter from coming into the home in the first place.
Our simple decluttering lessons break down each area of decluttering your home into manageable bite-size chunks.  These decluttering instructions help you to focus on one area at a time instead of getting overwhelmed by the project of decluttering your whole house.  Even if you've decluttered before and just want some advanced tips and tricks or a refresher course, keep reading our Declutter Your Home guide for a coach to keep you on the declutter path!
Next: What is Decluttering?