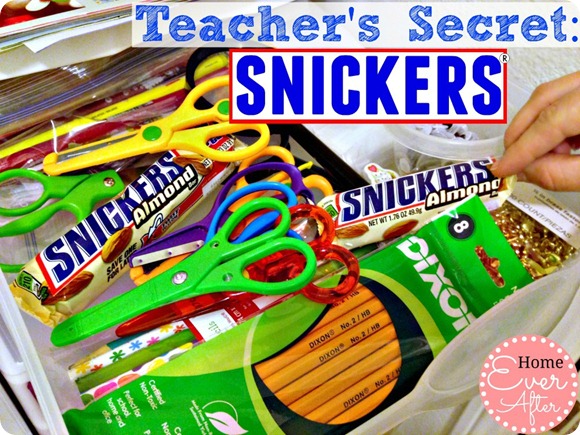 This shop has been compensated by Collective Bias, Inc. and its advertiser, SNICKERS®.  All opinions are mine alone.  #WhenImHungry #CollectiveBias 
Being a teacher involves long hours, lots of patience, and limited opportunities to keep yourself fueled with snacks.  Whether you're a homeschool mom or a classroom teacher with a room full of learners, the challenges are the same for keeping up your mood for long stretches of time as you wait for the lunch bell to ring.  Luckily, teachers have a little secret to keep them going when being hungry makes them feel not-quite-themselves!
I headed to my local Kroger store to show you my little snack secret.  Near the cash registers, you can find a variety of SNICKERS® candy bars for every kind of taste preference.  The first one I grabbed is SNICKERS Almond in the ivory-colored package.  If you're an almond lover, this choice is for you.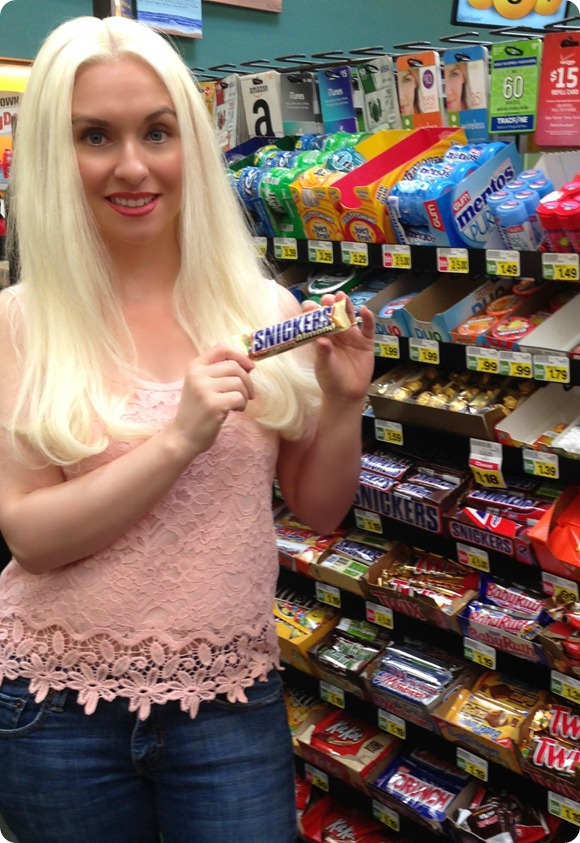 For a little variety, I also picked up some SNICKERS Peanut Butter Squared.  Just like it sounds, this SNICKERS variety in the yellow package adds a hint of peanut butter to your nutty favorite.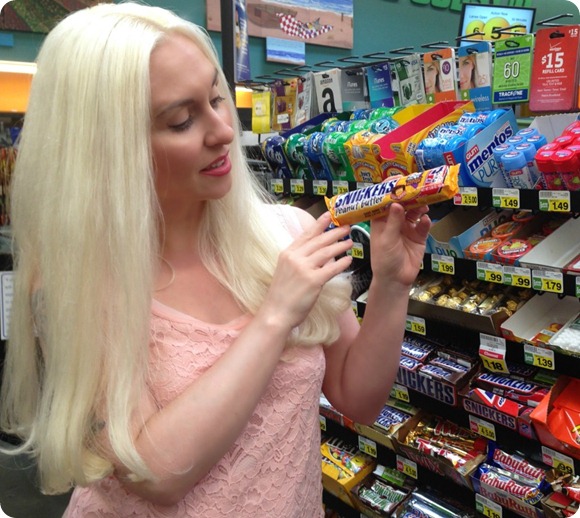 Who wants a grumpy teacher?  No one!  The life of a teacher is often hurry up and wait though, and you don't always have time to eat when you really should. 
Sitting quietly through an hour-long test can get old fast.  You grade papers for a while and watch the clock.  The second hand ticks slower. 
And slower. 
And slower. 
Suddenly, all the ambient sounds of the classroom disappear – no more pencils scratching, feet tapping, papers shuffling.  All you can hear is the sound of the second hand, hammering away the constant reminder that you are trapped in the class and getting hungrier and hungrier.
As you can imagine, this hangry feeling is as terrible as it sounds!  Hangry = hungry + angry.  We've all been hangry before and we get a little more manic the more time passes when we're hungry!  We get a little crazy and don't feel like ourselves at all.  I told you I had a secret saver though, and that secret is SNICKERS.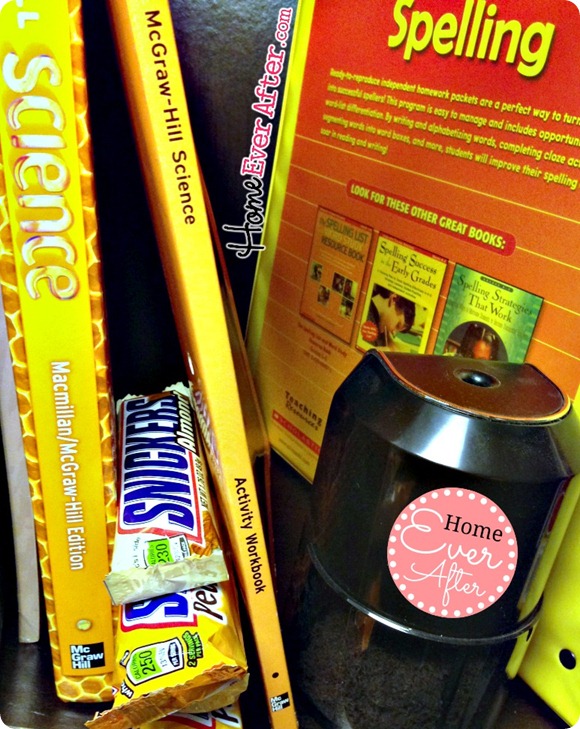 The colors on SNICKERS packages make them easy to hide in your teacher drawers and school supplies areas where they won't be noticed! Above, you can see where I hid the SNICKERS Peanut Butter Squared and SNICKERS Almond bars in my teacher's editions of my Science and Spelling textbooks!
In the picture at the top, you saw how I blended the SNICKERS Almond bars into my supplies drawer where I keep the scissors, extra packs of pencils, and brass fasteners.  You can barely even tell they're in there!  When it's time for me to get a replacement pencil or hand out scissors, I can grab a SNICKERS for a quick bite to keep me fueled.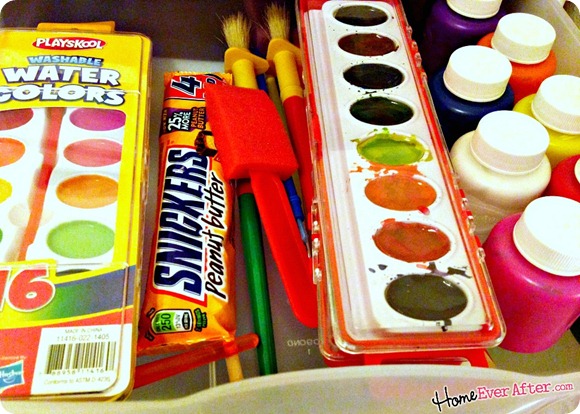 Above, you see how the SNICKERS Peanut Butter practically disappears into my painting supplies drawer.  When I grab the brushes and water colors for painting time, I can easily sneak a few bites to keep me going until lunch time.
Grading papers is no exception.  After the students are gone, the work of the day still has to be checked and my desk drawer has SNICKERS little to-go squares so I can pop one in my mouth and keep grading!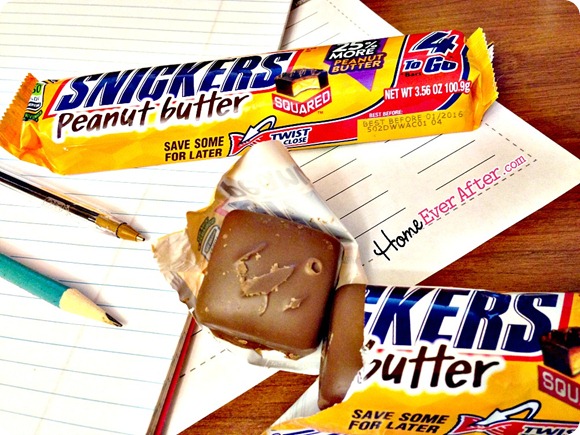 Enter the SNICKERS "Who are You When You're Hungry?" Contest
How does winning $50,000 sound to help calm your hangry moods?  Enter the SNICKERS "Who are You When You're Hungry?" for a chance to win $50,000 and take over the YouTube homepage for a day!  Here's how to enter:
Upload your photo or video showing how you're "not you" when you're hungry from your computer, facebook, instagram, or the SNICKERS meme generator.
Voting begins at noon 5/11/15 and ends at 11:59am ET 7/15/15 to decide the winners.
Whether you're teaching you own 3 kids or a class full of 23, you want to make sure the hunger doesn't take you over. Using these sneaky hiding places, you'll keep that grumpy takeover at bay, which makes for happy students as well!  Want to check out other fun SNICKERS stories and even recipes? Visit the SNICKERS social hub.
—
Disclosure: This is a sponsored post and Danelle Ice has been compensated by #CollectiveBias #cbias and Snickers to promote the #WhenImHungry campaign and the SNICKERS® Who are you when you're hungry? contest. Only Danelle's honest opinions are given.