This is a Sponsored post written by me on behalf of LEGO. All opinions are 100% mine.
If you haven't created your family's Christmas or holiday cards yet, I've got the perfect free option that your kids (and relatives) will love! LEGO has created the coolest LEGO family generator at minifigurefamily.com that will let you make LEGO people for all your family members, including adults, kids, babies, dogs and cats.
I know you're anxious to go check out this free Christmas card tool, so here's the place to go to make your free LEGO Minifigure Family. Here is the Christmas card I made for my family with all of our minifigures: Flash, Danelle, Truett, Seven, and Prynne.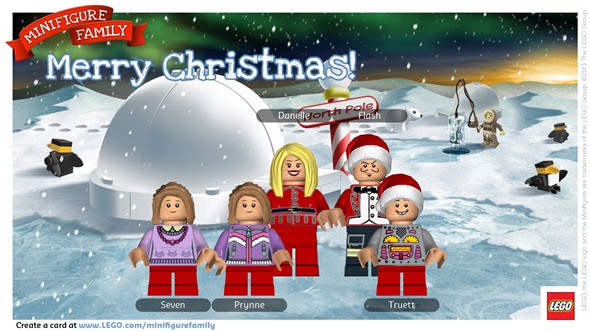 You can see on my LEGO Minifigure Family card that each person has their name either above or below their character. That is an option in the family generator that you can turn on or off. I turned the names off while I was playing with the card and it looked fine either way.
How to Make a LEGO Minifigure Family
Once you go to the site, step 1 has you start adding family members one by one. You type in the name, then customize each LEGO character by choosing skin color, face, hair or hat, shirts and pants. I love that for kids they have a smile choice that has a missing tooth, which you can see on my son in the picture above, for kids who have lost teeth!
You can choose actual skin tones or make your LEGO people yellow like the real LEGO toys. The kids have only three pants choices (red, green, and blue), but for adults there are a lot of styles and colors. Once you get all of your family members created and named, you move on to step 2.
Step 2 is called Set the Scene and gives you different backgrounds to choose from. There is a red stage with Frosty the Snowman on it, the winter snow dome background you see in my card, and many others. The backgrounds aren't just limited to winter though, because you can use the LEGO Minifigure Family e-card generator for Thanksgiving (with the harvest background of Autumn woods), for a New Year's beach getaway card, or whatever else you imagine.
In step 2 you can also arrange your LEGO boys and LEGO girls by moving them around in the picture. You can drag and drop them to any of the little yellow circles on the ground to complete your scene (shown below). You can group everyone together or move them by different items in your background picture to make it funnier!

In this step you can also edit the holiday greeting message at the top of the card to say one of the 11 standard greetings. I was disappointed that there wasn't a way to type in your own custom message, in case you needed to include something else for a different card theme. This is the dropdown of holiday greeting choices:
Step 3 is called Share It for obvious reasons! At this point, your LEGO Minifigure Family Christmas card is just the way you want it and it's time to reap what you've sown.
When you click on share, a pop up box will have you confirm your age before using social share buttons for children's privacy issues. Then you have the following buttons available for your free LEGO card: download as a JPG file, facebook, twitter, pinterest, link to the card, or email the card.
If you love sending Christmas e-cards from your family each year, you could easily email this card to your Christmas card mailing list and check one more thing off your holiday to-do list that didn't cost you a thing! Did I mention that it was super fun and easy to use too? Your kids will want to get in on customizing their minifigures, and don't be surprised if you end up with more (many more) than just one LEGO Christmas card to choose from!
What are you waiting for? Go make your free LEGO Minifigure Family holiday cards now!