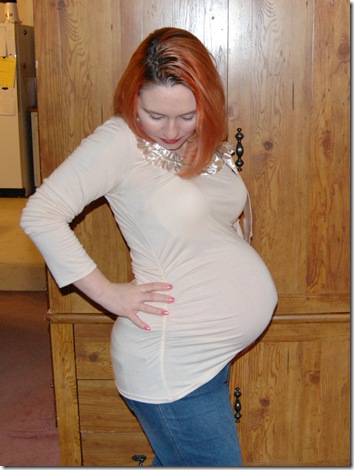 A few months ago I announced that I'd dyed my hair red instead of my signature blonde until after the baby is born in January.  Since then I've been barraged with people asking to see my new hair and pregnant pictures!  Here they are, just for you that wanted to see.
Here are a few photos of me (Danelle Ice) right before heading out to Thanksgiving dinner last week.  I'm 33 weeks pregnant in these shots and feeling like delivery day (January 9, 2010) can't come soon enough.  It's a girl, and we're not telling anyone the name!
My hair is growing so fast that I keep cutting it more every few days.  I miss my blonde hair, but I'm really having fun with the Dana Scully look (you X-Files fans know what I'm talking about).  My husband begged me to try Scully hair for months, and here it is. 
The very last photo is with my handsome husband, Michael Simmons, at Santa Claus House the day after Thanksgiving.  We have a tradition to go there every year and get the family photo taken with Santa Claus.