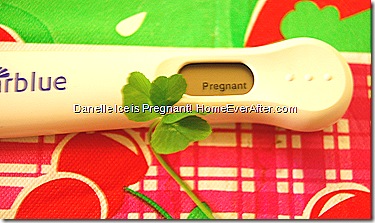 I'm Pregnant! 
My husband and I are now expecting baby number 3, who will be due on February 5, 2011.  We just found out today and spent the night calling through the phone tree to share the news with our family and local friends.  I had to make sure our family heard right from us before the news got leaked onto the internet like so often happens (oh yes, I can just see the uninvited "Danelle Ice pregnant" facebook statuses before the grandmas know!).
Talk about luck right away: we started trying on May 14th and got a positive pregnancy test today, June 9, 2010.  I'm 6 weeks along; click if you want to see what the baby looks like at 6 weeks (he/she is about the size of a lentil bean right now).  I have a hunch that it's a boy, based on my food cravings already.
Seven just turned 5 months old today!  It feels like I've hardly had any time not being pregnant, and now to be back at the beginning again.  I hope the next 9 months goes quickly; I can't wait to meet our new little one!
I had to record a video to preserve the pregnancy news for the future generations!  You can see the vlog below (subscribers will have to click through to the site to watch).