You may know I just had a baby on January 9, 2010 (her name is Seven Ice-Simmons; you can see her birth announcement here).  Thanks to God, I was blessed to have an amazing delivery. 
I was glad that my husband and I thought to take some before photos of me (Danelle Ice) at the hospital, which we didn't do last time when our son, Truett, was born. If you scroll all the way to the bottom of this article, you'll see an after photo of me from after Seven was born.
When we arrived at the hospital, I was already 2 centimeters dilated and 75% effaced.  I'd been in early labor for a few days already and was ready to have my water broken.
Our delivery was at Fairbanks Memorial Hospital in Fairbanks, Alaska.  Just like at my last birth, I was able to wear a pink gown that I brought instead of the standard fare, open in the back, rear-end-flashing hospital gown! 
Last time, my gown said "World's Best Mom" on the front (I bought it around Mother's Day).  This time, I had to settle for pink and grey flowers- but hey, anything pink is good!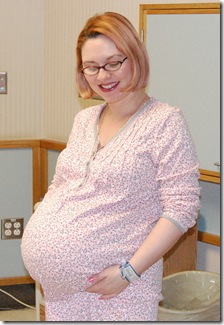 I also got to sport my pink fingernails and toes, pink massaging bedroom slippers and pink robe at the hospital as well.  Of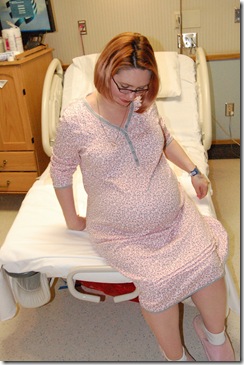 course, I'd never dream of delivering a child without my makeup on and hair done; I just wouldn't be a Mary Kay girl if I did :)
In the picture at right, which is more of an aerial view, I look a lot smaller.  Upon arrival at the hospital to give birth, I weighed in at 171 pounds (exactly 6 pounds heavier than delivery day on my last pregnancy). 
This is the heaviest I've ever been.  I notice the extra weight making the most difference in how my face looks.
My swollen fingers have not allowed me to wear my wedding ring for about the last 4 months.  However, I did get to wear it on a gold necklace around my neck.  My swollen legs and feet were quite unattractive!  They look like elephant legs and I definitely had "cankles".  Thankfully, you can't see them in the photos.
The black and white photos below will definitely be blown up and framed, as well as added to Seven's scrapbook.  I have only felt more beautiful on one other day in my life – my wedding day.  The anticipation of giving birth to my new baby made me radiant!
I looked mostly the same after Seven was born.  I didn't put on any fresh lipstick, and the red spot on my nose shows a few small blood vessels that burst under the surface of my skin during delivery.  Other than that, I'm really starting to see the benefits of my new hairstyle – I mean, it looks exactly the same from before to after, with absolutely no combing!
And to all the fans who have been requesting my blonde hair back:  don't worry, it will be reappearing sometime in the near future.  I'm enjoying the X-Files Scully hair for now, though.
Danelle After Photo:
At left, here I am holding my beautiful baby girl, Seven.
I only lost 7 pounds from before to after delivery, so I've got my work cut out for me as far as weight loss goes.  Luckily, I'm tracking my weight loss day-by-day and will be posting  updates as time allows on my progress. 
I know it's ambitious, but I'd like to lose all this baby weight before I get pregnant again (hopefully 3 months from now).
I've not been doing any special weight loss activities yet.  Right now, there is only time for eating, sleeping, and feeding.  And yes, I'm lactating, so that should help to burn some extra calories.