We all think we need more space, but how well are we really using the space that we have?  I explored this recently in switching to a new system to cut down the plastic grocery bag clutter.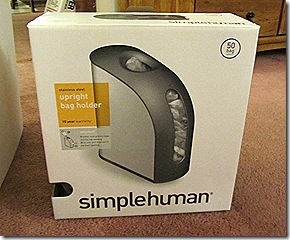 There are a certain number of plastic bags my family has to keep because we use them in the diaper pails and small trash cans.  Remember when I showed my new plan to save money on trash bags?  It worked like a charm and we whittled down our grocery bag stockpile.  Then, I just needed to find a more compact way to store my plastic grocery bags.
Previously, I used a slimline white plastic trash can to store only plastic grocery bags.  The system worked alright, but most of the time it was completely full and overflowing.  The bags were so puffy that the lid just wouldn't stay closed.  Then I came upon a storage container called SimpleHuman Upright Bag Holder.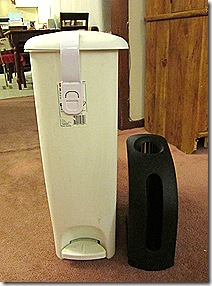 At right, you can see the difference in size between my old container and the SimpleHuman container. 
The SimpleHuman bag holder is quite a bit smaller, and it's so compact that it can sit on a shelf or countertop.  I've now got it tucked into the spacenext to my microwave on the kitchen counter, which is space that would have been wasted anyway. 
It's stainless steel and has openings both on the top and the front so that it's easier to put the bags in and get them out.  I wanted to see if the SimpleHuman bag holder could really store as many bags as my large container, so I challenged my son to move them over.  He got to work…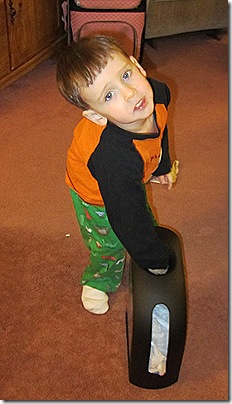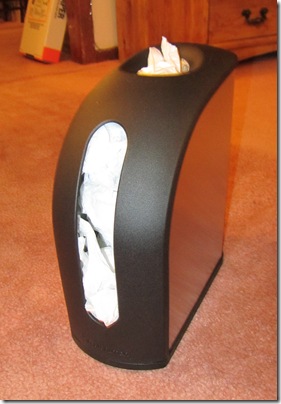 …and what do you know?  All the bags which were in the large white container fit into that tiny stainless steel one.  There is definitely something to say for confining stored items.  I found out a little later that SimpleHuman also makes a bag container similar to this one which mounts on the wall.  I'm thinking of getting one of those to hang on the wall in the pantry for when they're needed in rooms other than the kitchen. 
I'm loving this handy plastic grocery bag storage solution (which we call the bag hutch – the kids love it)!  What have you found to corral your plastic grocery bag clutter?  Let us know in the comments.
Cut Down the Grocery Bag Clutter is linked to Works for Me Wednesday, 11th Heaven, and Tackle it Tuesday.
Disclaimer:  This post has no material connections.   ISWM may or may not make money from anything you see, read, or click on our family of websites, including affiliate links.