Nothing makes a toddler feel more important and grown up than to cook with mom or dad.  However, toddlers' motor skills and patience level make a lot of recipes out of the question!  Cooking with a toddler is fun, but must be strategically planned. 
Luckily, I stumbled upon one of the best foods to cook with a toddler: Jello jigglers!  Not only is Jello easy and fast to make, but cutting the shapes out with cookie cutters is fun enough to keep your little one interested until you're all finished.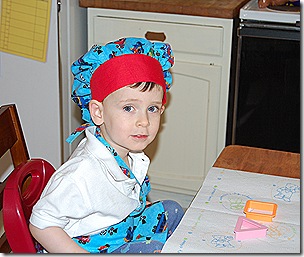 Here is Truett in his apron and chef hat.  He was excited to make Jello jigglers, but he didn't really understand what they were or what he would be doing.  We used sugar free Jello, because that's how we like it!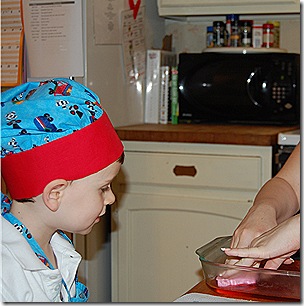 After letting the Jello cool in the refrigerator to set, I showed Truett how to press a cookie cutter into the Jello. 
The important thing in making Jello jigglers turn out is to follow the recipe for jigglers, not the recipe for regular Jello.  Jigglers have a thicker, chewier consistency that make it possible to cut out shapes with cookie cutters.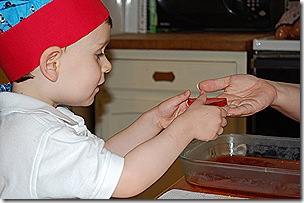 When I handed him the first shape, he finally realized that making jigglers was super fun!  He was eager to try his own next.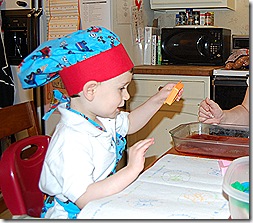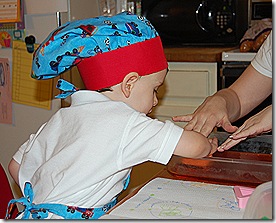 When making Jello jigglers with a toddler, remember these tips:
Start with a simple shape without a lot of turns and lines to make the jiggler easier to remove from the pan.  Our first shapes were a triangle and a square.
While it's okay to let your toddler press the shapes into the Jello, it's probably a better idea for mom or dad to take the jiggler out of the pan.  Sometimes they don't come out in one piece.
Save the difficult cookie cutters for the end.  Below, you can see our gingerbread man jiggler.  He was very difficult to get out of the pan with all his limbs intact, but was the most in-demand jiggler when it came time to eat them!

Remember to soak the bottom of the pan long enough to make the Jello soft, but not long enough to make the Jello start melting.
Have fun making Jello jigglers with your little aspiring chef!  the most fun part of the whole project, of course, is eating them together!   Cooking with Toddlers: Making Jello Jigglers is linked to Tempt my Tummy Tuesdays, Tasty Tuesday, Kitchen Tip Tuesday, and 11th Heaven.