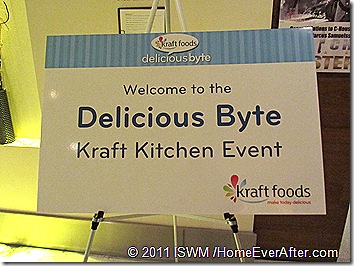 In my normal course of business as a problogger and brand advocate, I do a lot of work with corporations, and that includes corporate PR (public relations).  My last trip from October 7-9, 2010, was no exception as I flew down to Chicago, Illinois. 
My time was spent at the Kraft Foods kitchens examining their new products and recipes.  Below is a picture of me with Kraft Foods Vice President, Lisa Mann, taken on this trip.
While at the Kraft kitchens, I got to try out exclusive recipes and new top secret products that aren't even available in stores yet.  The most exciting news is that Kraft's chefs are now going to be creating fantastic recipes for Home Ever After recipes!
Below is a photo of me (center front) with the mom blogger crew from Delicious Byte. 
I can't wait to share some of the recipes and videos from my last trip to Kraft.  For more information about my relationship with Kraft Foods, please see the Corporate Relationships Disclosure.