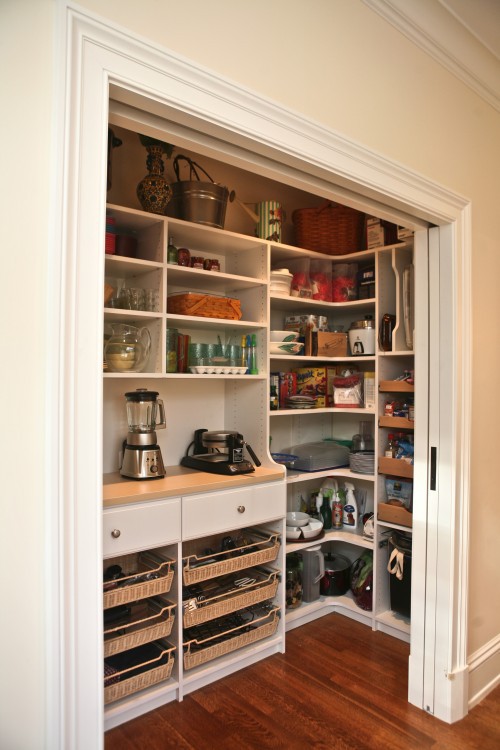 Source: closetsredefined.com via Pinterest. If you have concerns about the use of this photo for rights reasons, please leave a comment on this post to have it removed.
Decluttering Help: The One in, One Out Rule
Clutter busting is a necessity in maintaining an organized home. Things can accumulate, multiply and pile up in the absence of active clutter busting.
Our decluttering help articles give you tips, motivation, and small places to begin on what may be a little clutter stash or a huge hoarding issue.  Whatever your level of severity as a  hoarder, we can help you declutter!
Today, we're going to focus on staying clutter free after you've put in the time and effort to declutter your home. This little rule is something I call the "One in, One Out" rule. How does it work?
Basically, for every new item you bring in to your home, you have to take one out. Give it as a gift, donate it to charity or put it into the garage sale/eBay box. It doesn't matter where it goes, just as long as it goes!
More Clutter Help: Simple Decluttering Criteria for Clothes
Identify your top clutter areas and use the "One in, One Out" rule for just these areas. If the clutter level in your home is high, you can use the "One in, Two Out" rule to get things under control even faster.
For example, if the kids' toys and mom's shirts are 2 things that are overabundant in your house, first pare them down. Once you get to the right number, the only way to keep it at or close to that number is to enforce the decluttering rule.
When you're thinking of buying a new toy or shirt, think to yourself, "Am I really prepared to take an old one out and donate/sell it?"
More Clutter Help: Declutter This Today: The Bathroom Closet
Talk to your family and make sure everyone is on the same page. Only pick 2 or 3 areas to start with and make sure everyone knows what they are.
It will take a little reminding and a little getting used to, but even this small rule will get your children thinking about material things in a different light. They may think twice about asking for a new Elmo toy if it means they have to give up one of their other toys!  For help with this, read Minimalist Mom: Decluttering with a Big Family.
You may that this decluttering rule it helps eliminate the "more is better" attitude so prevalent in our society and teach them to value what they have.
The "One in, One Out" rule will help you to keep your fantastic results after decluttering by maintaining the level of your stuff. We don't want our possessions to be in charge of us!  Just getting started on your decluttering project? We'll keep you making forward progress.
  Next, you'll want to read Declutter Your Closet: Why is it So Hard to Let Go of Clothes?
We originally published "Clutter Busting: The One in, One Out Rule" on March 16, 2008 on Home Ever After.