Nessa is a full time wife and mother of two, living the small town life in rural Texas. She loves cooking everything from tried and true recipes to her own wonderful creations. Catch her blogging at Ramblings of a Texas Housewife and on Twitter @Nessa_TX.
Eggs are one of my very favorite foods. I love them poached, fried, boiled, in omelets, quiches, pretty much anyway you make them. I can eat them for pretty much any meal. They are such a versatile ingredient and quite frugal too. Eggs are one of my very favorite ingredients to cook with. 
But, I was a little thrown off the first time I ate with my husband's family and they served up a big plate of chili and eggs. One bite though and I was hooked. I know this sounds weird, but it is one of those meals that you will love once you try it. It can be whipped up super quickly, is very filling, and is especially good on cool autumn or winter nights.
The best accompaniment to this dish is garlic toast. It is also good on tortillas as chili and egg burritos. 
This is one of our favorite week night dinners. It is also great for brunch. It is very hearty and will fill up even the largest appetites. I hope you enjoy it as much as we do!
Chili and Eggs Recipe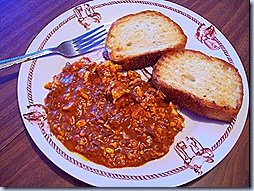 The chili and eggs recipe below will feed 6 to 8 people, but this is an easy recipe to increase or decrease.
Ingredients:
2 – 15oz. cans chili without beans, we prefer Wolf Brand (I highly suggest not substituting chili with beans, as it completely changes the flavor of the dish)
10 to 12 eggs
Directions:
1.  Simply whisk the eggs or prefer like you normally would when making scrambled eggs. Do not season them, it is unnecessary.
2.  Scramble the eggs over medium low heat, stirring often.
3.  When the eggs are almost completely done, yet still a bit damp, add the two cans of chili.
4.  Cook until the chili is heated through.
5.  Serve hot with garlic toast. Salsa and/or sour cream can be used as toppings if desired.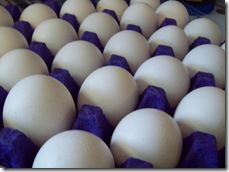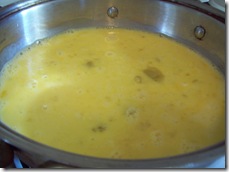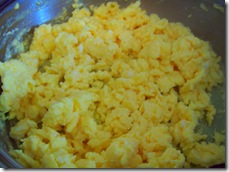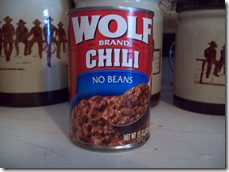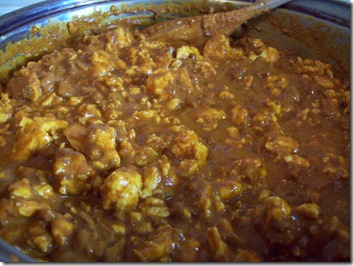 Stay tuned next Monday for In the Kitchen with Nessa to read her Creamy Salsa Beef Recipe.  Make sure you subscribe to our free updates so you don't miss any of her great kitchen how to articles!
Find more cooking articles at Tasty Tuesday, Tempt my Tummy Tuesdays, and Homemaker Mondays.