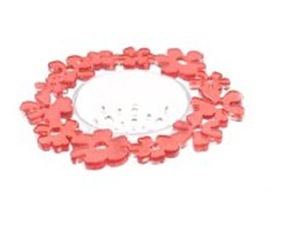 Review: Blumz Sink Strainer
Recently I tested out the Blumz Red Flower Sink Strainer in my kitchen sink.  It was purchased from Fred Meyer as a decorative alternative to the traditional metal sink strainer for a kitchen drain. 
Is the Blumz Sink Strainer really a viable alternative?
Blumz Sink Strainer: The Good
Matches with Décor:  The Blumz Sink Strainer comes in different colors so that you can match it to your kitchen décor.  I especially liked this feature, since I could have a little accent of red in my sink to compliment my red apple kitchen.
Decorative vs. Utilitarian:  The Blumz Sink Strainer really makes a sink, especially a stainless steel basin, look much less utilitarian and sterile.  The plastic flowers look pretty and circle your sink drain, making it much more appealing to clean the food trap from time to time!
Blumz Sink Strainer: The Bad
All Looks, No Function:  Unfortunately, the Blumz Sink Strainer is all looks and no function.  The entire purpose of the sink strainer food catch is to catch the food, right? 
The large gaps in between the red flowers and the clear plastic strainer piece are so large that huge pieces of food and debris can pass through them.  With such a large amount of food going down the sink drain, it is only a matter of time before frequent sink clogs in the drain start happening.
Blumz Sink Strainer: Take It or Leave It
Leave It:  While the Blumz Sink Strainer looks very nice, the function has to come first in a sink strainer.  It's not worth it to pay for plumbers to keep unclogging your drains because of all the food getting through your food catch.  Do yourself a favor and keep looking for an alternative that's both decorative and functional.
Where to Buy Blumz Sink Strainer
Our Blumz Sink Strainer was purchased at Fred Meyer.  You can also buy the Blumz Sink Strainer at Amazon for about $4 plus shipping.  If you do buy this strainer, you'll need to read our article about how to unclog your drain for 45 cents.
—
Disclaimer:  In compliance with the FTC Guides, updated 10/5/09, this article has no material connections. IS World Media (ISWM) received no fees for the writing or publication of this article.  This article is a product review conducted by Danelle Ice and is her honest opinion.  The Blumz Sink Strainer was purchased by ISWM to facilitate the review process.  We cannot make claims as to the typical results users should expect from this product, as we are trying it out and have no way of knowing other users' experiences.  ISWM / We Try Everything does not endorse the company mentioned above.