The following is the conclusion to a sponsored experiment conducted for American Express and giveaway with prize donated by American Express.
Do you remember the giveaway which started last week for a $300 American Express gift card?  It was part of an experiment I did for American Express in which I calculated how much cash I would get back in a whole year if I used the new American Express Blue Cash card instead of a debit card.
If you remember, I live in Alaska where the expenses for everything (including fuel and groceries) are much higher than in the rest of the country.  I've seen commercials on television before for "cash back" credit cards, but never really gave them much thought until I did the math myself.  When I saw how much 2-3% of your expenses for fuel and groceries could add up to, I was amazed!
The really fun part of the experiment was that I got to give away a $300 gift card to one of our lucky readers!  All they had to do to qualify was calculate the same figure I did – how much they would save over a year with Blue Cash- and tweet about it.  It was interesting to see the amounts of savings; some were much lower than mine and some were higher.
We ran this twitter contest with the hashtag #Bluecashmeifyoucan and you can search twitter right now for that hashtag to see the savings from all the different people who entered the contest. 
The excitement comes to a close today, because we just did the random drawing to see which lucky entrant will walk away with the $300 gift card just in time for Christmas shopping!
The winner of the drawing for our $300 American Express giveaway is…
#156 – Wendy T from Single, Bereaved, Broken & Tenacious
Here is her savings tweet, which had her calculation that she could get $189 cash back per year just by paying with the Blue Cash card instead of her debit card!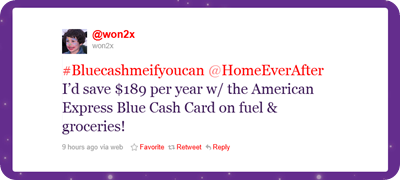 Congratulations, Wendy!  Thanks to everyone who entered this amazing giveaway for some Christmas spending money.
Below is the random number drawing, provided by Research Randomizer.  If for any reason the winner does not respond within 3 days of notification, the next eligible runner-up will be declared the winner.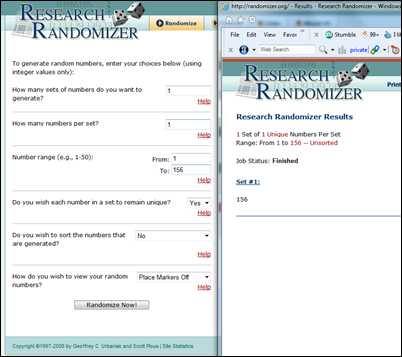 Disclaimer: This article has material connections. IS World Media (ISWM) has been compensated for posting about this campaign and the winner will receive a free $300 gift card provided by American Express.