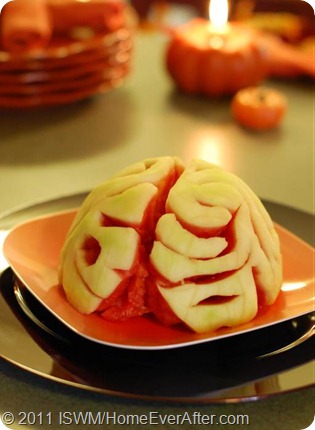 Halloween is fast approaching, and we have gathered the best make-it-yourself creepy, scary, unforgettable Halloween food recipes.  Anyone hungry for Halloween party food treats in the form of eyeballs, brains, or bones?  Look no further!
We're all aware that kids love gross things – the grosser, the better.  Combining gross and scary with snack food is a recipe for Halloween party food that your children will remember for years to come!
Not to mention that they'll be amazed (and proud) to have such "gross" parents…
Make Scary Halloween Food for Your Little Boys and Ghouls
No need to buy expensive bakery cookies and cakes or deli snack trays for your Halloween party food.  Typical bakery fare such as boring bat sugar cookies and orange and black witch cupcakes are so ordinary.  Get creative!  Frugal Halloween party food that you make yourself is ten times scarier and lets you express your ghoulish side (and keep the grocery budget low for your party).
We've compiled our list of top scary Halloween food recipes from items that are relatively easy to make using common food ingredients and not many special tools.  Don't worry, you don't need to buy a jello mold in the shape of a brain to pull off these spooky Halloween snacks!
Follow the links below for some of the most gruesome creepy Halloween food projects, complete with photos and recipes.  This year, make some truly terrifying Halloween food at home for budget-friendly snacks that your kids will love!
12 Creepiest Halloween Foods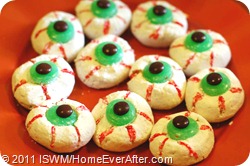 1.  Halloween Green Monster Edible Eyeballs – Sweet treats including mini donuts on a disgustingly realistic edible eyeball.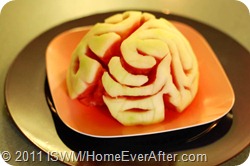 2.  Hideous Halloween Watermelon Brains – These are so realistic looking that no one will believe they're really made out of food!
3. Black Spiders (made from icing) – Very freaky looking; guarantee that some people won't be able to eat them!
BAKE IT: Recipe Craft Project: Halloween Pumpkin Patch Oreo Chocolate Cake
4. Vampire Fangs in Blood (made from apples)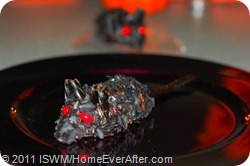 5.  Halloween Rabid Rats – Our Twinkie rats are so lifelike that they gross out small children and adults alike!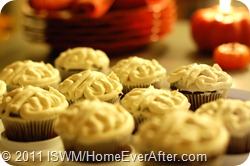 6. Brain Cupcakes – The swirling on these brain cupcakes looks complicated, but it's easy once you get the hang of it.  I show you just how to make the Halloween brain cupcakes.
7. Salty Bones (made from bread dough)
Read this too: Free Halloween Homeschool Lesson Plans and Printables
8. Awful Edible Roasted Fleshworms (made of meat and spaghetti)
9. Creepy Mummy Dogs (made of hot dogs and dough)
10. Finger Cookies – Talk about creepy!  Make them in sets of 5.
Watch this next: Video: How to Carve a Halloween Pumpkin into a Jack o Lantern
This article was originally published October 21, 2008.  Disclaimer:  HomeEverAfter.com contains affiliate links and readers may assume that we receive compensation when affiliate links are used.